Camelmarket in Daraw (by car)
There are two big camelmarkets in Egypt: one near Cairo, one in Daraw, about 20 km from Aswan.
The camelmarket in Daraw is each Saturday and Sunday.
There is also a market for cows, goats, sheep, donkeys and camels on tuesday.
Since December 2008 there is no need for tourists to join the convoy between Luxor and Aswan anymore and so I took a car to see Sil Sila and asked Ahmed, my driver, to stop in Daraw. During the last years I had been at the camelmarket sometimes with the felucca, which is a very nice 1-day/1-night-trip.
The camels come with big caravans from Sudan and are put on lorries in Abu Simbel to come to Daraw. There many will be sold to be put on lorries again and be brought to the Camel market Bir-Kash, 30 km away from Cairo..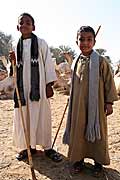 What else can I tell you? This time (Saturday, January 2009) there were about 2.000 camels for sale (and I hope, the pictures can show this). Every time I was there, I was the only tourist. The people and camels are very friendly. After promissing the first man, I would get his picture printed and send it to him (they have relatives all over in Aswan), the word spreads fast and all were happy to be photographed.
And this is the magic spell: "Moumkin soura, min fadlak?"
(in English: May I take a picture, please?),
then "shoukran" (thank you),
and please show them their photo also on the backside of your digital camera!
Tip:
Count one hour to go there by car, if it will be faster - good for you!
P.S.
The last picture was made from the inside of a restaurant in Edfu - 6 hours after I have left the camelmarket. What a country, where camels are parked outside in front of a restaurant.
"I just wanted to say a big thank you to you, Waleed and Mustafa for making our Aswan time memorable. We really enjoyed the camel market, and like your own vists, we were the only foreigners. At times we felt transparent, as everyone virtually ignored us, which was just the way we loved it. I really can't understand why more people don't go - a great experience. And apart from the mobile phones and 'take your camel home' trucks it looks as if it is unchanged for hundreds of years."
Ray and Sue Jones, June 4th 2010 (whole email in our guestbook)