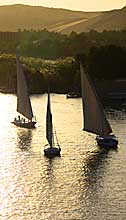 Meetingpoint for
Pyramisa Isis Corniche Hotel

Your captain will await you at the stairs (please see arrow)


Good to know:

The felucca will have a sun blind (in summer), but please bring a cap or a scarf to protect your head from the sun in case you get out from the felucca. Sun cream and mosquito-repellent spray is also good to have.
Because of environmental reasons: please dont throw garbage or cigarette buts in the water of the Nile. A garbage basket is on the boat.
Of course the feluccas are stocked with all safety equipment.
Because of course the feluccas depend on the wind and we don't know how often you want to stop on the way, we don't guarantee any schedule. Please talk with your captain when you will meet him, what you would like to see on the way and how far he thinks the wind will bring you that day.