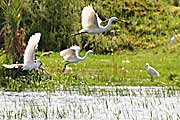 1 day sailing a felucca
Sailing with the felucca is the most beautiful thing to do - that's what I think. But to enjoy the luxury of a bathroom in the night is also something many people dont want to miss ...
A day tour could be like this: Start to sail, if you like visit Tombs of the Nobles and / or Kitchener Island (= Botanical garden) turn south (possibility to get off at the Monastery of Simeon), cross the First Cataract (between 4 and 7, see map), maybe have a cup of coffee in a Nubian House (6), continue to the Lock of Old Higham or turn around already at Seheyl Island (where you can also get out to visit of a Nubian village), visit the Old Inscriptions at Seheyl Island, sail back and pass the skyline from Aswan. If you still have time (did not stop at a sight / wind was good / prefer to sail north instead) sail north (C): and pass the villages of Gharb Aswan, and get off the felucca in the evening.
One day tour (approximate hours shown on the map) do NOT include visits at places but show only sailing time. So usually "felucca all day" including visits at different sights will be sailing between 1-9 on the map.
Tickets are not included and cost 40 EGP each sight, each adult at the Tombs of the Nobels, at the Monastery, at Botanical Garden (= Kitchener Island) and Inscriptions (of course it is up to you which you like to visit).
Good to know:

The felucca will have a sun blind, but please bring a cap or a scarf to protect your head from the sun in case you get out from the felucca. Sun cream and mosquito-repellent spray is also good to have.
Only fresh fruits, vegetabels and meat (beef, chicken, if you like also fish) are used to prepare the most delicious meals. An icebox keeps the food and beverages cool, the water used to cook is from the tap, not from the Nile!
Hot drinks (Black tea, coffee, Yansun tea, Karkadee (Hibiscus) tea, ...) are available all day.
Because of environmental reasons (not to produce too much garbage to take with us) "normal" dishes and glasses are used. If you wish and tell us, plastic dishes for one use only can be provided.
Of course the feluccas are stocked with all safety equipment.
Because of course the feluccas depend on the wind and we don't know how often you want to stop on the way, we don't guarantee any schedule. Please talk with your captain when you will meet him, what you would like to see on the way and how far he thinks the wind will bring you that day.
Our afternoon trip on the felucca (just our family – not a big group like we saw on other feluccas) was the most relaxing time we spent in Egypt. We had a lovely lunch on the felucca, visited the botanic gardens, and enjoyed a refreshing swim in the Nile.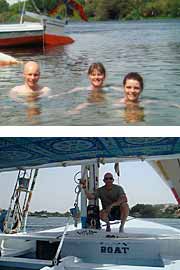 Our captain was a friendly and generous host and took us wherever we wanted to go. Petra phoned while we were on the felucca and it was lovely to talk to her and let her know that all was well.
(Deborah, Australia - and thank you so much for the pictures you sent to use for this website!)
The following pictures are pure horror to us ...
and examples for guests from Nile Cruise tour operators who have been put together like sardines in a tin, and - even worse - being hassled from the left and right side to buy souvenirs. To prevent that this might happen to you, this website was built (more info).
... we spotted other tourists looking on with envy when they saw the space we had on your very comfortable boat...
Kind Regards, Mary & Tony Newton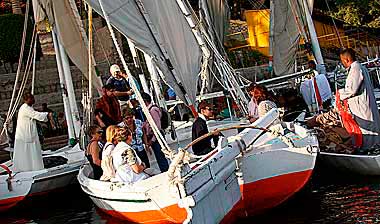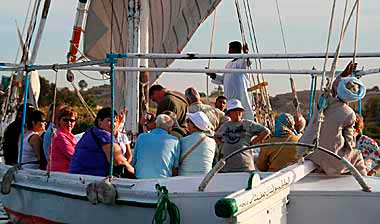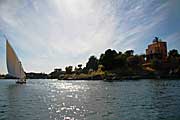 Sailing 1 day
each hour: 9 USD

(Felucca is only for you and your friends - no sharing with strangers -)

Optional -
if you want lunch
while sailing -
each person:
15 USD each
All sorts of tea are for free and available all day, but softdrinks are not included:
Can of Coke etc or Juice and Water
If no wind to sail:

• Motorboat to tear the felucca against the current near the Dam and then sail back quietly (without motorboat) with the current (relaxing and beautiful):
9 USD for felucca
plus 1x10 USD for the motorboat

or

• Motorboat only
- if no wind:
cheaper than felucca plus motorboat
(but motorboat is loud, felucca is quiet)
- if you want to see much within short time (motorboat is faster than the felucca)
each hour 10 USD
Small Pictures:
• Birds at the Nile
• Bridge north from Aswan
• Relax while sailing
• Washing clothes
• More birds
• Minshawee (2nd captain)
• So nice...
• Crossing a Nile Cruise
• Water mill
• Enough space
• Near Aga Khan
• Kids love to sail ...
• and we love to be pulled from the felucca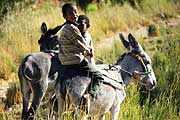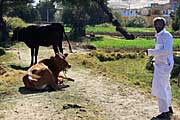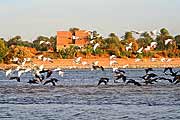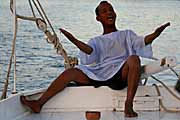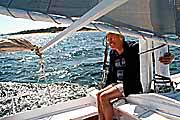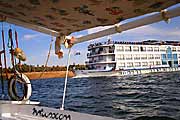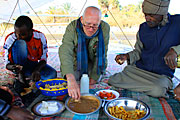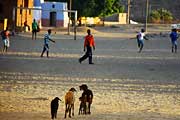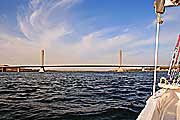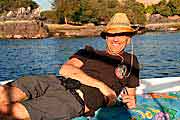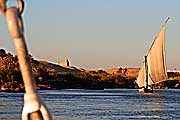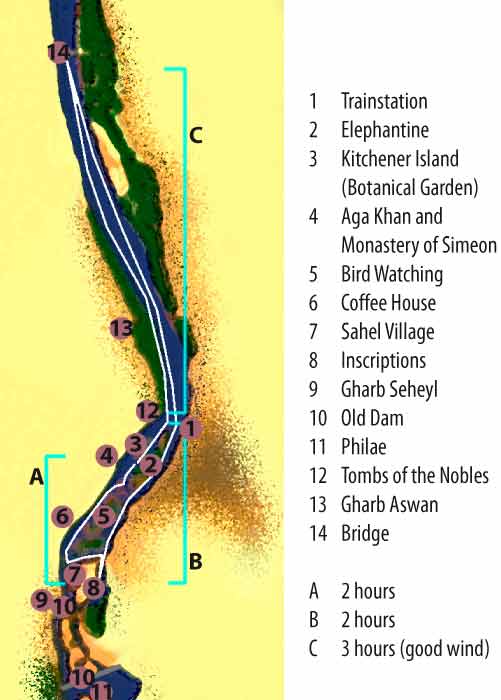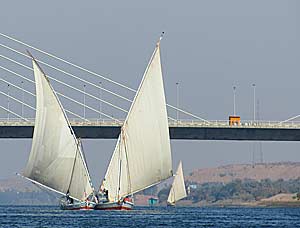 ... Highlights of the trip were the outings on the felucca- we felt like princesses being taken on these private trips- everything was done to make sure we enjoyed ourselves - all that for a very acceptable and honest price! ...
Agnes Temper, UK
... Spending the day on the felucca was certainly one of the highlights of our trip and would highly recommend it to anyone.
Thanks for your wonderful service and for making this part of our trip so enjoyable. Please thank Mustafa again for us the next time you speak with him.
Best Regards, Alan and Dolores (Hong Kong)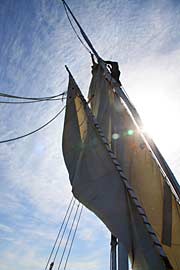 ... a fabulous captain! So lovely, gentle and friendly. The felluca cruise along the nile was relaxing and the sightseeing just perfect ... Despina and Christian (Australia)
... ("the Nubian Eddie Murphy") and his friends and family were so warm and invitiing in both the Elephantine Island and Westbank Nubian Villages. He was the perfect laid-back but highly skilled felluca captain and we loved our time on the Nile ... Carol Waller, Idaho
... our captain was able to take us for a wonderful 4 hour trip on teh Nile which was just magical. He also took us to visit his family and his home where we enjoyed amazing views and had tea and bread and at his mothers house ... Linda Milton, Essex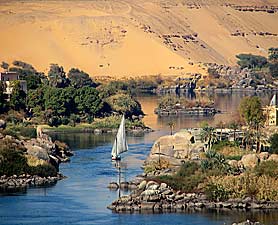 ... Then came the highlight of our time in Aswan, a trip on a felucca. The trip was wonderful, all the time we were given options of things to do and let us tailor the trip to our tastes with his guidance. Our trip to his home, his mother's home and his village was very interesting and everyone gave us a very warm welcome. It was a shame we did not have any longer as we could have had a much longer trip on the felucca ... Sue Medlycott, Swindon, England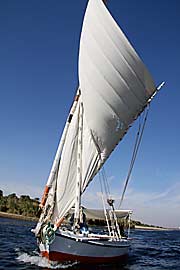 ... This is Vince ... thank you again for providing the felucca trip and Mustafa really provided an excellent service and I certainly had a great time. Thank you! Unlike most other Egyptain service providers who believed in earning quick money, My captain truly believed in good service and reputation, and he managed that really well, so please pass my gratitude to him next time when you see him. I am sure who I will be recommending next time my friend goes to Aswan... (Hong Kong)
More comments: please see our guestbook