Abu Simbel
At the moment convoys are not used, but travelers are free to choose any time between 4 and 11 am. It is 265 km to Abu Simbel, so you need 3 hours to go there, you can stay and visit 3 hours and then it needs 3 hours back again.

Advices: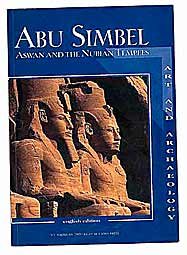 The tourist police requires copies of your passports (the main page with photo and passport number) from Waleed. He needs them the previous day to prepare the papers for the convoy for you. You can give the copy (copies) to him, if you arrive in Aswan two days before your visit at Abu Simbel, or you can send them to us as jpg or pdf.

Photographing is not allowed inside the temples.
Guides are also not allowed inside the temples. Thats why we recommend to buy this book instead (We have no contact to the publisher in any way). It is available at Egyptian airports and in souvenirshops in Aswan and Abu Simbel. It has beautiful pictuers and good descriptions. For beautiful memories which cannot be forgotten.
If you come with a Nile Cruise, you might be surprised to find our prices to be much lower than these from your tour operator. That's why we are frequently asked to organise the excursion for guests on Nile Cruises. But most tour operators don't allow their guests to go on their own. Please read more here, if you booked with a tour operator.
These who would like to stay longer / overnight, to see the monument at off-peak-hours, or who would love to see the Sound&Light-Show in the evening, use the first or second convoy to get there and return with the same driver with the first convoy or the next day.
My opinion about the Sound And Light Show in Abu Simbel: not the best one in Egypt ... 30 minutes slight show, at the end blue lasers, then 10 minutes to make photos from the (very nicely!, see picture) illuminated statues. I stayed at Nefertari (4*hotel), didnt like the food and got an aching back from the bed.
More informations (without responsibility taken): www.soundandlight.com.eg/Shows/AbuSimble.aspx

WARNING: Guides at Abu Simbel, cafeteria and souvenir shops
There are guides in Abu Simbel waiting around the ticket counters to offer their services. Please know they are not allowed to go inside the temple with you! They will stay outside, show you some postcards, talk much within a very short time and then open their hand to get as many Pounds from you as possible.
Also (when buying the ticket) you might get a paper that sais in English "guide fees" - but explains in Arabic that part of your ticket price is used to pay pensions for retired guides. To get this paper does not include the service of a guide!
There is a cafeteria near the ticket counter. Please note they have prices like airports in Western Countries, and they only sell bisquits, chips, etc. If you think you might need something to eat, bring some nuts, bred or lunchbox from your hotel with you to eat - if possible outside the vehicle . (Please understand that drivers are not happy to have guests smearing cheese and joghurt through the car or eat dropping oranges).
Souvenir shops at Abu Simbel will try to sell you items to a price that is higher than what you would pay in your own country. Please never let yourself talk into something. Calculate with a quiet mind, what you would like to spend for postcards or books, and then you can negotiate. But never pay more than what you have calculated as maximum before. With such a short time you dont have much time for shopping anyway. I would just try to stay away from these merchands.


Careful drivers
Often we are asked to provide careful drivers after guests have read horror stories in the internet about the convoy. Please understand that the Egyptian government cares about its tourists and laws are hard for Egyptians in case anything happens. Of course the driver will do everything that is in his hands to avoid accidents.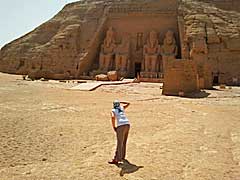 It is as hard for drivers to drive "European Style" as it is hard for Europeans to drive "Egyptian Style". Also drivers have to follow "convoy rules":
The first car and the last cars are with police officers – the schedule says all cars in between have to drive 120 – 130 km per hour. No car, microbus or bus can stay behind or drive more slowly. The convoy has to stay together. It is not possible for the driver to slow down.
Driving in the dark leaves guests sometimes shaking: to avoid lights in the mirror and being bedazzled by the light of the man behind, many drivers drive without lights – convinced after years of experience they can see more without than with lights in the mirrors that would confuse their eyes. These who still use lights are sometimes in trouble with other drivers who tell them to close their lights in the future. And upper beam headlights are used to warn uncoming traffic which is answered also with full beam.
For people outside Africa this sounds unlogic. We have discussed with our drivers, but the pressure of the convoy rules is huge and they are afraid to make their colleagues angry. So they try their best to make their guests happy without breaking convoy rules. Please understand also their situation. Accidents during the convoy are very unusual - the drivers know their jobs well.


Police Officers with the convoy
The fees that are paid include permissions for guests traveling with the convoy and having police officers with the convoy. Usually there is police in the first and in the last car. The officers choose the cars themselves - and there is no chance for the guests or Waleed to argue against it. When many tourists are in Upper Egypt, the chance to have a police officer (with gun) inside your car is very little. In fact, this never happened to one of our guests before the revolution.

But since the convois have become very small due to the lack of tourism, we had the situation that police was sittingin the car from guests. There is no way to convince the police to pay for traveling with you! And of course the owner of the car company will not give discount for the car that is traveling to Abu Simbel.
Please understand that this convoy is for the safety of tourists. And in case your car / microbus should be chosen, please try to take it as an adventure to have police escort in your private car.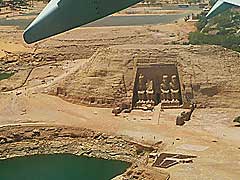 (In June 2012 there was no space in a car for a police officer. So the police asked the guests to change to microbus at their own expense or not travel at all.)

Flights with Egypt Air
Please book with www.Egyptair.com
Reasons not to take the public bus, which is not allowed for tourists anyway





Note: Waleed (or someone he sends) will meet you in your hotel (if you stay at Movenpick or Pyramisa Island: at the ferry on the Aswan side) and wait with you for the driver. With Aswan Individual you will not be left alone to wait for the driver!

135 USD for limousine (AC, size Toyota Corolla;
up to 3 persons)

Private microbus with aircondition for you and your group (no sharing with strangers):
180 USD for microbus (up to 6 persons allowed inside)
incl. permissions and taxes.

-------------------
Optional:
with guide:
plus 45 USD
(Guides are NOT allowed to go inside the temple with you!)
-------------------
Optional:
Meet guide near highdam on the way back to explain to you Highdam, Philae, Obelisk - guide will also negotiate and pay the captain to Philae and back (boat included):
plus 135 USD for limousine
or 180 USD for microbus.
(Tickets not included)
Optional:
Driver stops at Philae
- no guide,
- boat to Philae not included
plus 28 USD for limousine or 40 USD for microbus.
(Tickets not included)
** guides are not allowed to go inside the temples with you!!!
More pictures about
Abu Simbel are shown in our facebook album

Sun festival at Abu Simbel
The sun miracle is twice a year in 22 Feb and 22 October. It had used to be on 21 before saving the temple, but after it has been moved it has become one day later.
People in the past had thought it is these 2 days for Ramses birthday and coronation but in matter of fact it is an astronomical event that indicates the season of planting in Egypt which starts in 21 of October and the harvest
season which begins in 21 of February.
Impressions from our guests
" ... Petra, you were right about Abu Simbel being as impressive as the pyramids and we were glad you advised us to see it – we originally thought it was too far away. It was worth the long drive." (Sian and family, Netherlands)
" ... One thing that may be interesting to tell to other travelers (maybe on your website):
when I said other tourists at the hotel that I was going to take the second convoy for Abu Simbel, they all said that was crazy because it would be too hot. But the car had A/C and the temples are inside the mountain, so heat wasn't an issue at all, and I was glad I took the second convoy since it was less crowdy.
Thanks for everything, Yours truly,
Morgan B. (Journaliste)"
"It's hard to write about this place without using words like 'awesome' and majestic' but it really is. You feel dwarfed by the gigantic statues, the whole place really does take your breath away, not only because of the sheer size of these structures, but also by the intense feeling of power you get..." (Liz from England, more about her time in Aswan, please see her blog)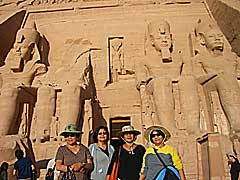 " .... The next morning at 3:00 am., Waleed was at the hotel to introduce us to the drivers who will take us to 3:45 convon to Abu-Simbel.
I was worried that the round trip (540 km) will be too much for us but it turned out ok. Nobody complained. The drivers were polite and very careful and alert which was very important to us. I could hear that Walee was always in contact with the driver to check how everything was going.
The sight of Abu-Simbel temples exhilirated us. I am glad aswan_individual could offer it..." Madeleine Vega, Los Angeles
"Hi Petra,
Just to thank you for your good services. We had a super time in Abu Simbel, and the temples for ourselves between 16:00 and 17:30pm. It is well worth spending the night in a crap hotel just to avoid the crowds and be able to appreciate the temples in peace and quiet, but honestly, Nefertari wasn't that bad, it is very run down, overpriced of course, very 60s, and old, and too quiet, the bed not too comfortable, but the pool was very clean! We had dinner at Escaleh, which was great. Escaleh is quite far from the temples (I would estimate 30 to 40 minute walk), so our choice of Nefertari paid up in the end.
I will certainly advise your site to other travellers in the future. Waleed was on time, very profissional, and the driver Meena did his best to please us.
Take care and hope business is good for you, Odile and Laurence from Cairo"
"... Again, the nice air conditioned car was used for this long jouney which made a big difference for my wife as she was starting to recover from her fatigue. In fact, she slept very comfortably in the car and did not feel any motion/travel sickness at all. Very courteous and professional driver too ... (Chris and Jimmy from Australia)"
" ... The next day we had arranged to go to Abu Simbel. Waleed met us at 3:30am as arranged to introduce us to the driver. We had a great drive in a comfortable, clean, airconditioned van (we all comfortably slept on the way there). We figured the 3 hour drive back would be tough for the kids, but we were thrilled when our driver turned on a movie for them to watch! We had the same driver take us to Luxor the next day…he drove safely at all times and was highly professional." (Sheila and family, Canada)

More comments in our guestbook

Please see pictures from our guests in our Album for Abu Simble (and click here)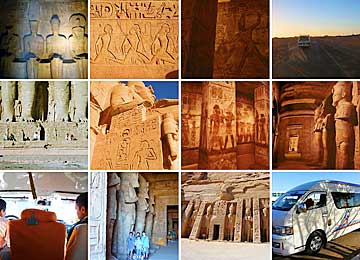 After 280 km, 40 km from the frontier to Sudan, we arrive at 7 a.m. on the parking lot behind Abu Simbel. "9 a.m. we will meet again." At the ticket counter people are pushing to get a ticket.
One has to walk around the mountain (the cupola of the monument), marvelling at the grotesque shapes of the coasts of Lake Nasser, and the sudden sight around the corner is taking your breath away ... The Temple of Ramses II (1279 – 1213 BC) is so huge and powerful, a second smaller temple beside having been built for his wife Nefertari and God Horus. Four Ramses are sitting beside each other, all statues being 20 meters high. Head and upper part of the body of one of the hulks fell after an earthquake down to his own feet. Time is short if one wants to see both temples from the inside. Because all tourists are coming with the same convoy there is a lot of tailgating.
But in spite of all this fidgetiness a big calm is lowering down on the visitor after entering the halls inside. The old statues upraise themselves. Paintings grace the walls and in the sanctuary of the big temple, four archaic Gods (inclusive Ramses) are waiting to meet the light of the sun, which will fall down on them every 22nd of february and 22nd of october, to wander from one to another, taking 10 minutes time all together. Abu Simbel is one of the most impressive places I ever saw.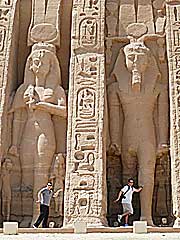 Thank you Christina, for the right picture on top,
this picture above, the picture beside Flights with Egypt Air,
the microbusses beside car sharing.

Thank you Madeleine Vega
and also Gianpaolo for your picture that illustrates "careful drivers"