Abydoss - breathtaking
Abydoss has been used as necropolis rom about 4000 BC to 600 AD, which is more then 4.500 years of use. It kept its importance because it is said that the temple of Abydoss is the home of Osiris head (after his brother Seth had dismembered it, scattering the pieces through all Egypt. More about that myth, please look here).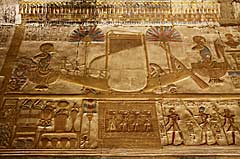 The temple visited today was built by Seti I (1294 - 1279 BC; father of Ramses II). It is dedicated to Osiris, Isis and Horus (which are one family) and Amun-Ra (King of the Gods), Ra-Horakhty and Ptah. Each of the Gods received one room with amazing beautiful reliefs. Each hieroglyphs is a picture for itself.
Behind the 6 rooms for the Gods is a corridor showing father and son in huge designs and a long list of the pharaos who preceeded them. At the end of it one steps out to see the Osireion, which lies at a lower level than Setis temple and is now flooded, so it is not possible to go inside.
Not visited by Nile Cruise Tourists and therefore not crowded, I think Abydoss to be the "must-see" for everyone that loves the fine arts, who wants to bow in respect in front of reliefs that are so well preserved, in front of jewellery carved out from stone that is so delicate, in front of Egyptian gods and Pharaoes, that seem to be alive.
Unfortunately the temple was not finished by Seti I, Ramses II closed the 6 entrances leading to the 6 rooms and took the best craftsmen away to work for him in Karnak. From outside the temple seems ugly, the designs in the first hall are made without love, and also have been partly destroyed by Christians seeking shelter during the Roman period. All the more one is overwhelmed when crossing from the first hall to the second and visiting the 6 rooms for the Gods.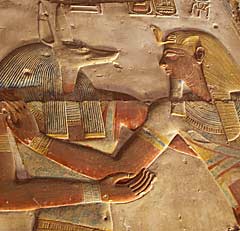 My advice: dont go without a guide. The long ride to Abydoss (170 km north from Luxor) and the beauty of every offering scene is worth a guide to point out and explain what you see. And to understand the technique how the old Egyptians made the plaster and high reliefs throughout the halls built by Seti I.
..."Thanks so much for suggesting Abydos and Dendera they were both extensive and very impressive. The colours of and preservation at Abydos was unlike any other place we've visited and with Dendera, I felt there were so many layers of the site. We visited a lot of temples and my worry was that we would get jaded after a well, but as my friend Sam said 'We've seen quite a few temples. Is it just me or do they keep getting better?' And the answer was yes! They did. ..." (Quonya in our guestbook, July 7, 2012)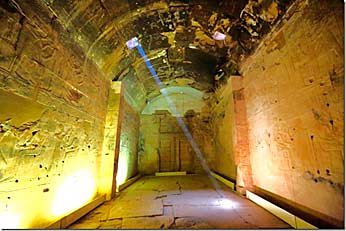 Foto hall at Abydoss Temple:
magical shot from Dunstan (Malaysia), thank you so much to let us show it!




Abydoss and Dendera including guide:
- with car (= 2 guests, driver and guide): 165 USD

- with mirobus (= 6 persons): 185 USD
(Abydoss only = same price due to long distance)
---------
Dendara only
including guide:
- with car:
118 USD
- microbus:
143 USD
---------
Tickets are not included
----------
(Option: "without guide":
since 2012 the tourist police requests us not to let you go without guide.)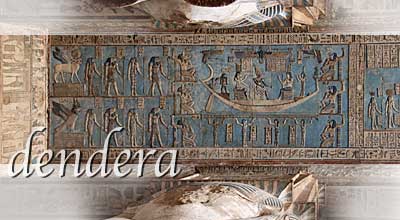 Dendara -
temple for Hathor
Hathor (Goddess of love and pleasure) had been worshipped in Dendara since the old Kingdom (about 2.500 BC). But this temple was begun "only" about 350 BC, much building was made while the Greek ruled Egypt and it was completed during the Roman period.
The Ancient Greeks identified Hathor with the goddess Aphrodite and the Romans as Venus.
The temple still has the stone roof, dark chambers, underground crypts (have change ready for the guard to help you inside) stairways leading you to the roof.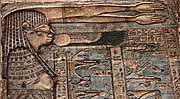 It is easy to distinguish carvings made by Egyptians, Greek and Roman. Of course ;o) the designs from the Egyptians are the most beautiful,
I must admit, after visiting Abydos Dendera was a sort of disappointment, although it would not have been, had we visited Dendara first and Abydoss after. But because of logistic reasons and to make sure both can be visited before closure at 4 pm, the excurison is made with Abydoss first and Dendara after.
In my opinion the reliefs are coarser, made with less love from craftsmen with less time and talents. I told myself I would have been overwhelmed had I seen this temple in Italy or Greece. But relations are different in Egypt - especially after the visit in Abydoss. Hathor temple is just on the way back from Abydoss to Luxor and worth the visit if you could tear yourself away from Abydoss to make it to Dendera in time.
Fotos:
above - The outer hypostyle hall was built by Roman emperor Tiberius. The walls are carved with scenes of Tiberius presenting offerings to the Egyptian gods.
- Two men in the sanctuary.
- Horus and Hathor in Roman clothes.