Riding high over Luxor:
with the hot air balloons
pictures say more than any words could do ...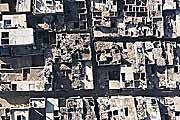 Wake up before sunrise,
a minibus will pick you up at your hotel, take a boat across the Nile and have some tea on the way,
another minibus will be waiting for you; to bring you to the balloons.
The ride alltogether will be for about 45 minutes only,
while the sun will get up and
I am sure, it will be an unforgetable experience!
When I was there, we had not much wind and did not get far.
But Linda sent me beautiful pictures (small pics left and right side), which show, if you are lucky, you will even cross the Nile.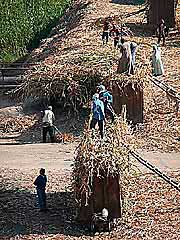 1 balloon is for 20 to 25 people.
After the trip you will be brought back o your hotel.
Times to choose for the ride to begin could be (to be confirmed, changing with the seasons):
5.30 - 6.15 - 7.00 a.m.
P.S. Thank you Linda for the pictures, and of course they are her copyright!
More from Linda in Aswan, please see here
"Waleed got us a great deal on the balloon ride at 500 EGP per person in Luxor. We found out that another couple on our boat paid $120 US per person each so we know we got a great deal. We never told them what we paid ;) "
(Christina, April 15, 2012. And thank you for the following 2 photos)
P.S. Due to changes asked from the government the companies for riding hot air balloons have raised the prices several times since 2012, which is why it is 85 USD now.