Ayyi chidma - at your service - in Aswan and Luxor: Waleed, Sero and many more
We want to be good, we want to be the best. We want you to be happy, satisfied, to see and experience: Aswan and its people is like a fairy-tale – with its treasures to be found, with adventures to be had, wonders everywhere and this special atmosphere of our town you will find nowhere else.
And we want you to come back, to enjoy again Egyptian hospitality and friendship.
Shoukran - thank you and ma as'salam - peace be with you.
We answer every E-Mail!
We are very sorry to ask, but: In case you dont receive an answer from us within maximum 1 day, we didnt get your mail becaus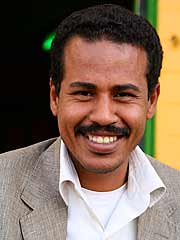 e of spam-problems. In this case: Please write again or send sms to us, so our admin can look for the lost mail.

Waleed
(Mohamed Ahmed Ali Ahmed)
(Licensed Travel Agent at
Travel Agency Association
in Egypt)

Mobile Phone:
(++2) 0100 - 250 95 88


If you have any comments to make about your visit or the website – be it enthusiastic, be it critical – we appreciate every comment. Please write in our guestbook and use our e-mail-adress (info@aswan-individual.com) for this.


After answering many questions from travelers
shortly before their departure to Egypt, we put many advices and
"Frequently asked Questions" on one website:

Last advices for independent travelers: "Before you leave"

for more understanding and a good time in Egypt!
"I think this page is extremely important and should read carefully
http://www.aswan-individual.com/html/Before-you-leave.html
Nearly all the cases I faced in just a week of time.
Really thanks for your adv and your tour.
Following the waleed tour is the only time that i can completely relax as I am in a highly alert status all the time to prevent those "sales" on the road anywhere."
(Tony from HongKong, February 2013)
Examples from our guestbook
"... Anyway, and possibly most importantly, if you visit Aswan and book through Aswan Individual, profits are not skimmed off by middlemen, the local people get the money. It costs less than any tour company, and they certainly looked after us properly.
Sadly, tourism is not going that well in Egypt at the moment, but we had no concerns or worries, and while it is not so busy, you can see the temples in peace, all the more reason to do it now.
..." (Richard, June 2nd, 2011)


... So if you go to Egypt and want to be relax, not bother by the people trying to get the most amount of money from you, then chose Aswas Individual for your trip.
thanks for those two amazing days.
Josy, Puerto Ayora-Galápagos (tripadvisor, December 2012)


I feel so lucky to have found Aswan-Individual while planning our recent family trip to Egypt in March, 2008. We (myself, husband and two teenagers) wanted to travel independantly, have unique experiences where we could connect with the real people of Egypt yet still have some assistance with making our plans.
You really made the Aswan part of our trip one we will forever treasure. We got to see a slice of Egyptian life and culture that I know we would never would have experienced if we had been on a big group tour or on a nile cruise boat and we felt like we made some new Egyptian friends in the process. Our capitain ("the Nubian Eddie Murphy") and his friends and family were so warm and invitiing in both the Elephantine Island and Westbank Nubian Villages. He was the perfect laid-back but highly skilled felluca captain and we loved our time on the Nile.
Waleed (the "man with the plan") was so dedicated and so totally attentive to our needs, the changes we made to our schedule were easily handled and he made sure all was well during our entire stay. Whatever we needed - a place to find change for small EP bills for baksheesh, a place to get my broken glasses fixed - he was genuinely happy to help. Both Waleed and Mustafa made us feel like family and we are happy and grateful to have had the chance to meet them in this beautiful part of Egypt.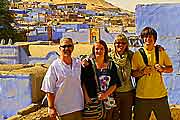 Thanks again to all of you at Aswan-Individual for making our trip to southern Egypt a fantastic one - its only been a month since our visit and I am already longing to return.

Carol Waller, Idaho, USA

Please see Carols photos (like the last 6 here on the left and the one above, thank you for sending them to us!
Aswan Individual gave me peace of mind and made our various Egypt temple tours possible through Waleed's coordination, at a fraction of the cost than organized tour agencies. Although we did it on our own, Waleed is like a friend, who toured us around.
Virginia Yates, USA (June 2011)


I think that Aswan Individual does a great job for any individual traveler or family going privately to Aswan but wanting to avoid the usual harrasment ...
(Fernando Gomez Contreras, Spain, April 2011)
Many more emails are in our guestbook


Procedures for hand-tailored holidays:
your wishes realized with our advices and services
On each website of Aswan Individul you will find clear descriptions and prices which are fair for the guests and for locals. These prices are without profit for any company and not negotiable on either side. Aswan-Individual was made for tourists as a help to stay outside hassle and mistreatments - but it intends also to be a chance for locals to be independent from the slave wages that travel companies pay to their local employees.
If you are interested in any excursion(s),
and to arrange tours you can email us. We will advice you about timings and possibilities and then send a detailed file with a summary of your wishes and our offers. This itinerary will be improved until it is perfect for you, and to be the concept for Waleed to prepare your resevations and organize.
Please call Waleed only to confirm shortly before your arrival, not to make arrangements, this would only lead to chaos.

Aswan Indidivual does not collect any fees or prepayments before you get the service you asked for. Thats why we appreciate when we are notified of any changes in your plans and a last call to confirm 2 days before arrival is necessary.

Waleed will wait for you to arrive and everything you have asked for will have been organised: In case of transfers Waleed will even have paid the cars which have been reserved from our guests by email.
Because it has happened that a guest did not arrive, Waleed needs a last confirmation from you 24 to 48 hours before by telephone (and we think it will also be a better feeling for you to have talked to Waleed and to hear that all is prepared for you).
Waleed: Mobile Phone (++2) 0100 - 250 95 88
It would also be nice to get YOUR mobile phone number - travelers are hard to reach by email ... in case you forget your camera in a boat or car or any other case of urgent need to contact you.
To save roaming costs for you Waleed will try first to send an sms, if there should be a need to reach you, so you can call him back from any Egyptian phone or send an answer by sms.



About payments:
Please pay for transfers, excursions, guides, Nile Cruises etc. to Waleed in EGP and cash. There are many ATMs in Egypt to draw money with your credit card if you remember your pin number.)
Felucca tours or other services concerning Nubian life is being paid to your captain direct.


Disclaimer / non-warranty clause:
However all informations are offered by Aswan-Individual as advice only and we are unable to accept any responsibilities. There are no insurrances in Egypt for travel agencies, except that the "Travel association of Egypt" covers its travel agents and court of jurisdication is Egypt.
It is the "Travel association of Egypt" of Egypt that is responsible to pay in case of any occurence.
The locals or the webdesigner are unable to accept any claims whatsoever (for injuries, damages, loss, death etc.). We do not assume del credere liability. No payments will be made for anything which might happen to you whilst utilising any of the tours or services suggested on this website. If this is something that is important for you, you will have to book with the international travel companies, with their international insurances for tour operators.
This website has been made as recommendation for honest and professional locals for independent travelers to arrange trips in advance through the travel agent Waleed who organizes the network of chosen locals instead of looking for services while travelling. Please read in our guestbook from previous guests telling their experiences.

Please find (and add :o) wonderful pictures about Aswan, Abu Simbel, Komombo, Edfu or Luxor on our facebook website