Enjoy sailing a felucca
Wherever your destination, get on the felucca, lean back, feel the wind, your captain will take you to these places, where you cannot go to by car. Sail along the skyline of Aswan, visit the Nubian Villages or venture a trip through the rapids of the first cataract. See the Tombs of the Nobles and / or the Monastery of Simeon. And how about a picnic or full lunch on the felucca?
You tell your captain where to go, where you want to get out, what the captain should show to you or how long he should wait for you ...

Ideas:
The art to make coffee (felucca tour most adviced! (4-5 hours)
One day sightseeing while sailing the felucca (8 hours)
Visit the Lock of Aswan Old Highdam (count 5 hours)
Camelride to Monastery of Simeon
Tombs of the Nobles and Qubbet El Hawa
Botanical Garden on Kitchener Island (2 hours)
Fishing with the felucca
Desert Safari à la Aswan - felucca and 2 km walk with great views

Visist Nubian Villages
Seheyl Island - Inscriptions at Seheyl, trip of about 4 hours
Seheyl Island village (south of Aswan, 3 to 4 hours)
Gharb Seheyl = "Seheyl Village" (south of Aswan, 3 to 4 hours)
Gharb Aswan (north of Aswan, 3 - 5 hours)
Elephantine-Island (the island across from Aswan with 2 Nubian villages)

Excursions with the felucca - 1, 2 or 3 days:
One day sightseeing while sailing the felucca
1 day and 1 night on a felucca to Camelmarket in Daraw
2 days and 2 nights on a felucca to Kom Ombo
3 days and 3 nights on a felucca: from Aswan to Edfu
Procedures about overnight felucca tours

Birdwatching:
Between the islands of the 1st cataract: only you and birds (2-3 hours)
Swimming in the Nile?
More opinions about swimming in the Nile
Please see also our guestbook:
Thank you for writing to us!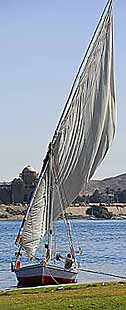 ... The whole trip was absolutely perfect, I couldn't have asked for more, the faluca trip and lunch was excellent and great suggest, we really couldn't have been happier with the whole way that everything was arranged and how friendly everyone was. Thank you again so much for your help ... (Graeme, July 16, 2011)
... This was the greatest afternoon! We had planned to stop to see various sights over the course of our afternoon but soon discovered that being on the felucca was too much fun and too relaxing to want to get off. Sero was more than happy to accommodate that. The best part of all was the lunch that Sero made for us to enjoy on the felucca….seriously the best lunch of our entire 3 week trip (even the kids agreed!), and all arranged with Petra ahead of time. The kids had the opportunity to jump from the felucca into the Nile for a swim, which was again such a highlight for them. Sero and Minshawee are 2 of the sweetest, nicest men we have ever met. (Sheila, March 31, 2011)
... Minshawee, You are the greatest felucca captain, with whom we have ever been sailing, with you we even got to know places we have not seen when we were in Aswan before. The hours on the Nile will be unforgetable ... (Family Ebneth, Germany)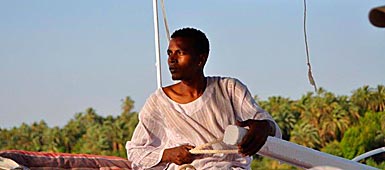 ... The service from Aswan Individual was very good. You were very helpful and from meeting Sero onwards the day was one of our favourites of the holiday.
We went to the tombs of the nobles, then a camel ride to St Simeons Monastery, a visit to Kitcheners island, a visit to a friend of Seros called Hobart who lives on an old floating hospital he is converting to a houseboat, lunch at Seros house and a visit to the first cataract. Quite a full day! ... (Richard & Julie, England).
... Mustafa was able to take us for a wonderful 4 hour trip on teh Nile which was just magical. He also took us to visit his family and his home where we enjoyed amazing views and had tea and bread and at his mothers house. Petra contacted Mustafa while we were on the boat, to make sure that all was well and it most certainly was!
Linda Milton, Essex Photos Linda sent to us
"... the food was some of the best we had on our whole trip and everything done for a fair and reasonable price. I will be back for sure, no question about it ..." (Leanne, Australia)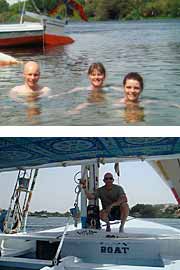 "... Our afternoon trip on the felucca (just our family – not a big group like we saw on other feluccas) was the most relaxing time we spent in Egypt. We had a lovely lunch on the felucca , visited the botanic gardens, and enjoyed a refreshing swim in the Nile. Mustafa is a friendly and generous captain and took us wherever we wanted to go. Petra phoned while we were on the felucca and it was lovely to talk to her and let her know that all was well." Deb Warda, Australia
... "We had a fantastic time - 5 of us on the boat – were treated like family - guests of the captain. The whole crew went out of their way to help us, the experience was great, food excellent, lots of laughs. We all highly recommend to anyone looking for a life experience ..." Cameron Merer, Australia
... "Just thought we would write a very quick note of Thanks to you for giving us such a great day out in both your family's village and the trip on your wonderful falucca. It was a pleasure to meet your mother also and to enjoy her home cooking, all of which was very good.
As Petra identified in setting up Aswan Individual it makes a huge difference to tourists if they can feel comfortable with their tour guide and not feel intimidated during their time on a trip. You accomplish these things and are a very honest man which puts your guests at ease from the first time they meet with you.
We spotted other tourists looking on with envy when saw the space we had on your very comfortable boat. ..."
Kind Regards, Mary & Tony Newton (Feb 22, 2010)
.... His knowledge of the area and its history and the nile was one of the highlights of our trip - enjoyed every moment of that falucca ride and the sunset was quite spectacular" ... Chris & Jimmy from Australia (June 16, 2010)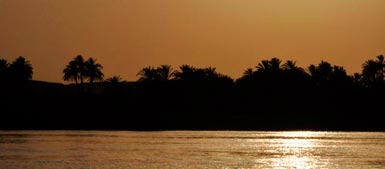 One felucca
each hour 13 USD

Optional - with lunch:
19 USD each person


If no wind to sail:

• Motorboat to tear the felucca against the current near the Dam and then sail back quietly (without motorboat) with the current (relaxing and beautiful):
felucca each hour
13 USD
plus 1x 14 USD for the motorboat

or

• Motorboat only
- if no wind:
cheaper than felucca plus motorboat
(but motorboat is loud, felucca is quiet)
- if you want to see much within short time (motorboat is faster than the felucca)
each hour 14 USD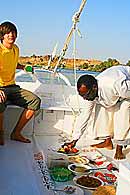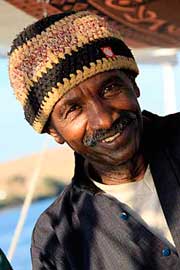 We spent great moments with Sero (this man is a gem!) when visiting Elephantine, cruising on the Nile or birdwatching.
(Claude, Jan 2012, tripadvisor review)
Captain Sero, Nubian through and through, was the guide for today – his immaculate white felucca moved swiftly up the Nile alongside the Corniche; his stories of the water levels of the Nile passing the time; small boys trying to earn a little money by paddling up to the boat and singing English nursery rhymes before being shooed away by Sero.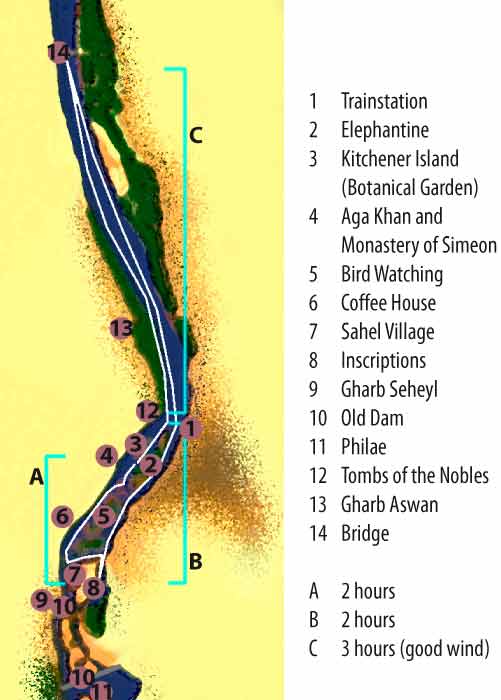 "The new felucca captain Sero was an absolute 'gentle' gentleman and we thoroughly enjoyed our four hours of sailing with him - he competently sailed us all the way down to the Old Dam, around several islands, organised for a local man to meet and take us to the fascinating Pharaonic and Ptolemaic carvings on Sehel Island, took us through the best parts of the cataracts for bird watching and even let us have a go at steering his boat.
Listening to him talk about his life in Aswan (he remembers life before the Great Dam) was just the icing on the cake!"
(From our guestbook: Karl Harris, March 2011)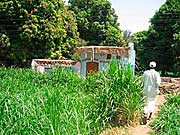 After an hour or so we stopped for lunch; it was an interesting walk to Sero's house on Elephantine over wobbly walls and through fields of maize; his wife cooked a lovely lunch of chicken, salad, bread and rice – but they don't sit down to eat with you which is odd; you are treated with enormous respect but the family stays away; the weirdest thing being the enormous TV showing what is obviously the latest Arabic soap. The tiny house with its gargantuan television seems somehow out of place in the area. We walked through maize fields, down dusty paths and hopped over dodgy walls to get there but it was well worth the effort.
Over lunch Sero was keen to discuss the political situation and how desperately poor Mubarak has made the country – he is seen as a despot and the popular belief is that he has made it impossible for Egypt to defend itself in the event of war, but also that the people are poorer now that they have ever been. Democracy, he yells, is the future and things will improve, but he fears for his children, little Ema and two older girls who hid from sight during the visit. I hope that things get better for him. The Nubian people seem generous and kind, and I have never once feared for my own safety during my visit here. The trip back was not so easy – we got stuck in the First Cataract and as there was no wind the boat was marooned.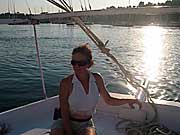 I had to operate the rudder while Sero used the oars to manoeuvre us round Elephantine Island – it took a good hour to get round the tip – the Nile was a fractious child desperate to get her way but we beat her eventually, and once around the tip the wind picked up and we whipped past the newly-renovated Old Cataract Hotel, of Death on the Nile fame, and I was allowed to sail back. A really lovely trip, thankyou Sero
(September 2011. Thank you Liz for your allowance to copy your impressions and pictures from your blog)



Komme gerne wieder!
- Looking forward
to come again
(Hajo, Berlin, April 2011)