3 days and nights on a felucca
Depending on the wind, you may sail as far as Sil Sila (Temple of Horemheb) or Edfu (checkout on the 4th day after breakfast)
... But most of all we would like to thank Mustafa and Nasser for making the 3 day felucca trip so memorable.
From the excellent crewing of the boat, the lovely food, the spotless state that Mustafa kept his boat in, to the visit of Nasser's home near Edfu.
Possibly the highlight for us though was mooring up over night at Sil Sila and the early morning visit of the quarries and tombs. We have seen Sil Sila many times from passing cruise boats, but have never been able to actually visit the sight. It was great! Allan and Kathy Morris (UK) - please see pictures
... We had a fantastic time - 5 of us on the boat – were treated like family - guests of the captain. The whole crew went out of their way to help us, the experience was great, food excellent, lots of laughs. We all highly recommend to anyone looking for a life experience to put your trust in Mustafa, Cico and Misso. Cameron Merer, Australia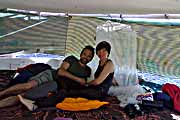 ... We keep in mind our time spent with Mustafa and Minshawee with a nice & large smile. Sweet mens who makes you feel like a family guest more than a turist. We really enjoyed these 3-4 days sailing on the felucca and we could have stayed more time with them, hamdulilah! Emmanuel & Soazig, Barcelona (thank you for your photo above and: "Washing in the Nile", "Fun", 2x "Preparing fish")
"The challenge --- living on a felucca for three nights and four days was going to be a revelation. The meals were always a delightful surprise, Mustafa and Menshawy provided lovely Nubian dishes from tasty stews, vegetables and yes our Nile-caught tilapias fried and eaten to the bones with their popular rice and noodle staple. Breakfast, snack, tea, lunch and dinner was a pleasant and delicious surpise. Service was par excellence. Sleeping on the top of the mid section of the boat, meant getting ready at each nightfall to have the sails come down, and the side canvasses be drawn for privacy and to protect us from the cool night. Jeff and I with our sleeping bags and extra blankets cozied in each time, while the Captain and his crew shared his private cabin.
Toilet needs were a different story. The males will always have the advantage, and the woman, alone, was me, had to find the most creative means to relive myself each time nature called. It meant finding a nook on shore, or a public toilet to proceed with what needed to get done. Showers, what showers? Thank goodness, it was a cool November which made it possible to be without the pleasure of a daily shower or bath." (Henree & Jeff, Nov 2009)
This is only a part from Henrees beautiful poetic diary. More about her trip in Egypt

Good to know:
With Aswan Individual you will be invited to visit friends / or families of the captains along the way in Nubian villages (If you are interested). If you want to give a gift to children, please bring pencils, exercise or note books or other things which can be used for school.
The tourist police requires a copy of your passport (Registration fees for you included in the price).
You should give the copies of your passport to your captain at least one night before the trip starts, so he will be able to bring it to the police and get the paperwork done (you can also send scans as jpg or pdf to us before you start to travel). You will be also asked what you prefer to drink during the trip so it can be bought and stored on the boat.
Please bring your sleeping bag. If you do not have one, blankets will be provided.
Please remember to bring warm clothes if you come during winter time as it will be very cold at night.
Mosquito repellent, Fenistil (in case they caught you), sun lotion and / or cap are good to have.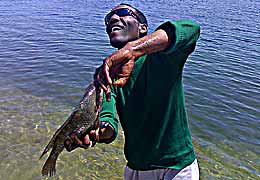 Only fresh fruits, vegetabels and meat (beef, chicken, if you like also fish) are used to cook 3 times a day to prepare the most delicious meals. An icebox keeps the food and beverages cool, the water used to cook is from the tap, not from the Nile!
Hot drinks (Black tea, coffee, Yansun tea, Karkadee (Hibiscus) tea, ...) are available all day.
The food was superb. I don't know how Sero does it on his small stove, but I would emphasise local food on the website. If people are interested in it they will be excited, if they are not, it will make no difference. (Richard, May 31, 2011)
Because of environmental reasons (not to produce too much garbage to take with us) "normal" dishes and glasses are used. If you wish and tell us, plastic dishes for one use only can be provided.
Of course the feluccas are stocked with all safety equipment.
Because of course the feluccas depend on the wind, there is no guarantee to arrive in Sil Sila or Edfu after three days. Captains who work for travel companies have therefore to ask a motorboat to tear the felucca and arrive in time, but which makes the guests sick from the scent of the petrol of the motorboat. We dont guarantee any schedule. If there is not much wind our captains will show you nice places on the way, invite you to Nubian villages which usually no tourist will see, introduce you to their friends or families. If you like, you can stop at the temple of Horemheb near Sil Sila. And if Edfu can not be reached - who cares? We can send you a car to pick you up after breakfast the forth day and bring you to wherever you want to go.
Please see further informations about overnight-felucca-tours to understand about procedures (click this link)
Dear Petra, Mustafa and Waleed,

We had an absolutely amazing trip in Egypt and this is partially thanks to Aswan Individual!
As my partner and I were planning to cruise the Nile we were scared of mass tourism settings, as we prefer to experience the more local life and culture instead of the fake traditional life presented on tours. In our quest of a more genuine travel we found your website and instantly knew this could match our aspirations. We daydreamed about the three-days felccuca trip and contacted Petra directly who very quickly and friendly answered all our questions. Though it is always hard to judge things on internet we decided we would go for it, which was our best decision after choosing Egypt!
We contacted Mustafa upon arrival in Aswan who picked us up at the train station and brought us to his house on Elephantine Island. We liked Mustafa directly! He is this friendly, easy-going man who makes you feel at home without ever being pushy or overwhelming. We stayed two days in Aswan before our felucca trip and had the opportunity to walk around the village with Mustafa and have dinner at his mother's place which is an absolute must do if you stay at his home because the food was wonderful!
About the felucca trip well it was just completely amazing! We didn't imagine it would be so nice and comfortable at all. The back of the boat was covered with planks with cushions on it where we could just lay down and admire the passing landscapes. It was pure comfort really! Aside Mustafa there were two other crew members helping with the sailing and the food and they were really friendly and professional as well. Mustafa is a very experienced captain and we felt very safe with him. At some point we had to go under a bridge which seemed quite tricky and we could see other feluccas were blocked but Mustafa and his crew managed to pass without trouble at once. I must say we were very proud to be on that boat! I don't know how they managed it but the food was really really delicious! It was fresh and variate for every meal. A pure delight!
We also had the opportunity to visit some friends of Mustafa in small villages which is of course a unique experience.
We also had the chance to benefit from Waleed's expertise twice. Once for going to Abu Simbel and once when in Luxor we wanted to go on a hot air balloon ride. The companies we contacted seemed to overprice the service so we called Waleed who immediately fixed us a contact in Luxor and we ended up having a very nice deal with someone as professional as him. Again we were very happy we knew about Aswan Individual! All in all we had a wonderful Aswan and Nile experience and would recommend it to all people enjoying unique experiences with local people.
Wish you all the best for the future!! Sincerely Anne&Kåre
(February 22, 2010)
... Puis on est partis pour notre excursion en felouque, avec Mustafa et Mishawi, comme un groupe de joyeux lurons. Les matelas tout confort sont agrémentés de coussins, et c'est l'ambiance nabab au rythme de l'eau. Quelques arrêts plage, promenade dans les plantations, ou achat de poissons vivants auprès d'un groupe de pêcheurs. On s'est aussi arrêté pour visiter l'île d'où est originaire Mishawi, on a rencontré sa famille, un joli moment. A coté les temples étaient plus fades. Surtout l'arrivée à Komb Ombo, avec deux lignes de plusieurs dizaines de gros bateaux. Nous avons débarqué mais nous nous sommes contentés de voir le temple de l'extérieur: il y avait foule! Une grosse perte de temps, si vous voulez mon avis. Sinon, notre dernier arrêt fut à Silsila, une ancienne carrière avec reste de tombes et hiéroglyphes, et un sable fin du désert. Aucun gros bateau en vue: le rêve. Durant ces 3 jours et 1/2 Mustafa a eu a coeur de nous proposer des menus variés, de nous montrer des lieux charmants, à l'écoute de nos envies, offrant son amitié. C'est avec tristesse que nous les avons laissé repartir.
Posted in tripadvisor, March 2009: Manusoaz
1 day, 1 night
Private felucca for you and your friends (no sharing with strangers):
75 USD one way - for all (not each person)

plus 16 USD each person each day for all meals

2 days, 2 nights
Felucca only for you and your friends (no sharing with strangers):
120 USD one way - for all

plus each person each day 16 USD for all meals

3 days, 3 nights
Felucca only for you and your friends (no sharing with strangers): 160 USD one way – for all

plus each person each day 16 USD for all meals
----------
Tea and Coffee are included.
Softdrinks or alcohol is not included.
----------

Pickup from felucca:
Transfer to Luxor with stop at KomOmbo and Edfu Tempel
100 USD for car incl. driver
125 USD for microbus incl. driver.

* if you are more than 5 persons a bigger felucca is needed.
Prices for the bigger felucca (not each person) =

110 UD
(1 day / 1 night)
170 USD
(2 days / 2 nights)
230 USD
(3 days / 3 nights)
Pictures:
• Sil Sila (top, left)
• Swimming in the Nile
• Washing in the Nile
• Visit of a school
• Fresh fruits and vegetables bought on the way
• Visit a family
• Fun
• Evening
• Sil Sila
• have a break
• at the camelmarket
• dinner
• buying fish
• cleaning dishes
• Minshawee bringing fishermen
• Hamada
• camels and donkey
• Edfu
• preparations for lunch
• Sero
• Silsila
• flowers on the Nile
• Hamadi

--------
middle:
• Emmanuel and Soazig
• Jeff and Mustafa
• fresh fish
• Mido
--------
right column:
• Richard, Juan & John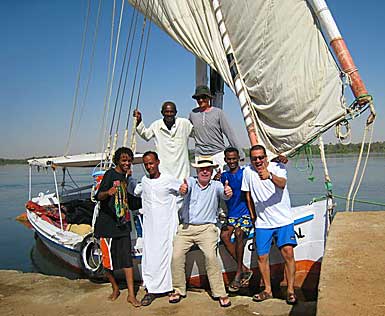 Checkout after 4 days felucca: "we had a memorable time, we all agreed ..." (Richard, May 2011)
The felucca was a laugh from beginning to end, Sero is a top cook, and made something different each day, including camel meat, white soup and other local dishes. Mido, Minshaweee and Hamadi looked after the boat under Captain Sero's steely gaze and made constant cups of tea.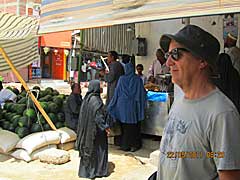 We went to a camel market, which was hot and smelly but definitely worth a visit. Sero's family is from around there so he restocked in the local market - he seemed to know everybody, while we tried the local shops for tea and coffee.
Apart from that we had nothing to do on the boat except read books, swim off the side when the breeze failed and talk to the crew about everything and nothing then sleep out under the stars. Again top marks for a great time.
Four nights on a boat was exactly right for us, but our wives/partners did not come, and they might have struggled with the toilet arrangements, which are wash in the Nile, and look after everything else in the desert, which may not suit all tastes. I think that Petra said that it is possible to do any number of nights or have a day trip which might fit some people better.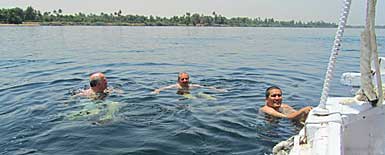 Waleed arranged a car to pick us up and we drove back to Luxor.
Nothing more to say other than that Sero is an excellent singer, and that Hamadi can't dance, but he really thinks he can. Don't bring many clothes, you can wash as you go. You need some long sleeves and trousers and socks to cover up at night and stuff to swim in. I finished two books. There is a big ice box, and you can bring beers if you like, but it is too hot to have much more than a cold beer with dinner.
(Richard in tripadvisor, June 2011)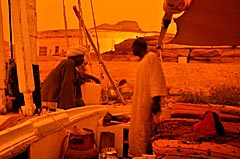 Silsila, temple of Horemheb, captured from Wojtek 2012 (thank you for this impressing photo!)