2 days and nights on a felucca
Depending on the wind, you may sail as far as Komombo (check out on the 3rd day after breakfast)
Thank you Petra for helping us arrange our trip around Aswan, you were incredibly helpfull.
It was also nice meeting you in Aswan. Waleed arranged everything we'd asked for in Aswan, and our two days & two nights aboard Captain Mustafa's felucca were amazingly relaxing. Mustafa keeps a very clean boat, and is also an excellent cook; the food we ate on his boat was delicious, part of our Top 3 for Egypt !! Thank you Mustafa, and Menchaoui also. Photos about Elephantine and his trip by felucca to Daraw which Pierre Olivier Duval has sent us (thank you so much for them!)
More comments, please see below
Good to know:
With Aswan Individual you will be invited to visit friends / or families of the captains along the way in Nubian villages (If you are interested). If you want to give a gift to children, please bring pencils, exercise or note books or other things which can be used for school.
The tourist police requires a copy of your passport (Registration fees for you included in the price).
You should give the copies of your passport to Mustafa at least one night before the trip starts, so he will be able to bring it to the police and get the paperwork done (you can also send scans as jpg or pdf to us before you start to travel). You will be also asked what you prefer to drink during the trip so it can be bought and stored on the boat.
Please bring your sleeping bag. If you do not have one, blankets will be provided.
Please remember to bring warm clothes if you come during winter time as it will be very cold at night.
Mosquito repellent, Fenistil (in case they caught you), sun lotion and / or cap are good to have.
Only fresh fruits, vegetabels and meat (beef, chicken, if you like also fish) are used to cook 3 times a day to prepare the most delicious meals. An icebox keeps the food and beverages cool, the water used to cook is from the tap, not from the Nile!
Hot drinks (Black tea, coffee, Yansun tea, Karkadee (Hibiscus) tea, ...) are available all day.
The food was superb. I don't know how Sero does it on his small stove, but I would emphasise local food on the website. If people are interested in it they will be excited, if they are not, it will make no difference. (Richard, May 31, 2011)
Because of environmental reasons (not to produce too much garbage to take with us) "normal" dishes and glasses are used. If you wish and tell us, plastic dishes for one use only can be provided.
Of course the feluccas are stocked with all safety equipment.
Because of course the feluccas depend on the wind, there is no guarantee to arrive in Komombo after two days. Captains who work for travel companies have therefore to ask a motorboat to tear the felucca to arrive in time, but which makes the guests sick from the scent of the petrol of the motorboat. We dont guarantee any schedule. If there is not much wind our captains will show you nice places on the way, invite you to Nubian villages which usually no tourist will see, introduce you to their friends or families. And if Komombo could not be reached - who cares? We can send you a car to pick you up after breakfast on the third day and bring you to wherever you want to go.
Please see further informations about overnight-felucca-tours to understand about procedures (click this link)
From our guestbook

"Relaxed, welcoming and pressure-free. An evening sail up the Nile turned into a 2 day felucca trip with Mustafa and his friend Minshawi to Kom Ombo, where we saw the delights of the Nile, ate delicious home-cooked food and slept on the felucca under the stars. We have fond memories of this rich experience. Away from the haggling, you truly get a taste of the Nubian life style. Mustafa and Minshawi were great company and very informative. Good times! Thankyou.
The visit to Daraw was one of the highlights of our trip (please see pictures).
Derrin and Hannah (Bristol, U.K)"

"Mustafa and his felucca, is one of memories we most cherish. Please express to him our greetings for the new year. I must say that Mustafa and his warm personality made our trip. I only wish we could have spent more time on his boat, enjoying his superb meals. I have many pictures from the trip that I'd be happy to send to you. ... Hope all is well with you. (please see pictures) Shouvik Biswas, Los Angeles"
"Danke, Danke - mehr ist nicht zu sagen..., abgesehen davon, daß die Reise von Petra super organisiert war, wir Waleed und Mustafa ebenso wie das Land fest in unser Herz geschlossen haben. Danke.
.. so wünschen wir allen Ägyptenfans das Glück die Reise mit Unterstützung von Petra antreten zu dürfen.
Andreas (bei Interesse könnt Ihr gerne bei Petra nach meiner Mailadresse fragen)" (please see pictures)
...Mustafa was a fabulous captain! So lovely, gentle and friendly. The felluca cruise along the nile was relaxing and the sightseeing just perfect. Visiting the Nubian Village was truly amazing. It was such a privilege to eat lunch at his mother's house, she is a wonderful cook... Despina Karidis
"We did enjoy the felucca cruise very much and appreciated the help Waleed gave us in getting my friend to the German hospital. It turned out that he had appendicitis so was flown back to Cairo that night for surgery.
The cruise was great and Mustafa a congenial host and good cook. We were disappointed that so little actual sailing was involved but you had intimated that winds could be a problem and shorten the distance covered. You might make this caution clearer when you redo your website. An initial briefing by Mustafa on sailing conditions and expected progress would have been useful in putting us completely in the picture.
As it turned out, the withdrawal of one couple from the trip was beneficial overall as six people sleeping on the felucca would have been a bit crowded.
So overall we enjoyed the trip, appreciated your communications, were well looked-after by Waleed and Mustafa, and would recommend you to our friends.
Best wishes, Eric"
1 day, 1 night
Private felucca for you and your friends (no sharing with strangers):
75 USD one way - for all (not each person)

plus 16 USD each person each day for all meals

2 days, 2 nights
Felucca only for you and your friends (no sharing with strangers):
120 USD one way - for all

plus each person each day 16 USD for all meals

3 days, 3 nights
Felucca only for you and your friends (no sharing with strangers): 160 USD one way – for all

plus each person each day 16 USD for all meals
----------
Tea and Coffee are included.
Softdrinks or alcohol is not included.
----------

Pickup from felucca:
Transfer to Luxor with stop at KomOmbo and Edfu Tempel
100 USD for car incl. driver
125 USD for microbus incl. driver.

* if you are more than 5 persons a bigger felucca is needed.
Prices for the bigger felucca (not each person) =

110 USD
(1 day / 1 night)
170 USD
(2 days / 2 nights)
230 USD
(3 days / 3 nights)
Pictures:
• Arriving at Komombo
• Lunch on the felucca
• Also kids love to sail!
• Children outside
• Nile Cruise
• Visit at a family
• Buying gas
• Cow in the Nile
• Nubian Wedding
• Breakfast
• Minshawee preparing
• meals
Hi Petra
Back home, I and my daughter Matilda would like to thank you, Waleed and all the Chantal's crew for the great time we had.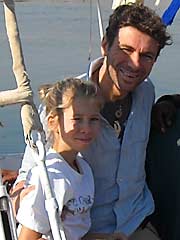 Everything was well organized and all the persons we came in contact with were very kind.
Sailing downstream the Nile was a very intense experience. The wind was just perfect for sailing, days were warm and nights cold but very dry, and watching the people's daily life on Nile's banks was a bit like setting the time clock back by thousands years.

Matilda loved the journey and had great fun climbing on the mast, playing cards with the crew or simply watching the landscape.

The Capitain (I am not sure i can spell his name right) was a real gentleman and made everything right to make us feeling comfortable. He and his mate Ahmada (hope I remember the name correctly) seem to know the Nile as they backyard and their ability in maneuvering the boat without an auxhiliary engine amazed me. I wish I could have just a small fraction of their sailing skills.
Please pass on to them all my warmest regards
All our trip to Egypt was great but the two days we spent on the river were definitely the highIight. I would recommend this experience as must-do to any indipendent traveller coming to Egypt !

I attach a few pictures All the Best !
Gianluigi and Matilda Bologna, Italy
(Jan 2011)
P.S. Being in Aswan at the same time like Gianluigi and Matilda, I had the pleasure to meet them after their felucca tour (and get on the photo of the crew). Thank you Gianluigi for the pictures you sent.