Felucca trip 1 day and 1 night

(depends on the wind, one way)

Option: visit the Camelmarket in Daraw
(only saturday and sunday morning):
I did it. I did it twice within 10 days. I still do not find few words to describe, sorry. It is too beautiful and too interesting. See the landscape, many migratory birds (in winter), feel the Nile which has really a different athmosphere than any other river I know.
If there was only one thing I could choose from this website to do, I would take the felucca again and visit the camelmarket in Daraw.
This is what I had written before: "It should be very picturesque: Lots of camels tired from their long journey from Sudan, excited cameleers guiding the caravans, dealers, and other purchasers, and inbetween me and my camera.I have been there and I tell you: its not on Tuesdays. Most of the people in Aswan believe its on Tuesdays. In Daraw they shook heads and said its on Saturdays and Sundays insha allah."
The next time I had been to Egypt I tried a second time. This time not by car but with the felucca for the weekend. I had always thought time would be too precious to move by felucca. It is not. On my way back the memory card of my camera broke. Instead of feeling angry, I felt happy to have a reason to make the felucca trip a third time 5 days later.
"... our two days & two nights aboard Captain Mustafa's felucca were amazingly relaxing. Mustafa keeps a very clean boat, and is also an excellent cook; the food we ate on his boat was delicious, part of our Top 3 for Egypt !! Thank you Mustafa, and Menchaoui also.
Photos about Elephantine and his trip by felucca to Daraw which Pierre Olivier Duval has sent us (thank you so much for them!)
Good to know:
With Aswan Individual you will be invited to visit friends / or families of the captains along the way in Nubian villages (If you are interested). If you want to give a gift to children, please bring pencils, exercise or note books or other things which can be used for school.
The tourist police requires a copy of your passport (Registration fees for you included in the price).
You should give the copies of your passport to Mustafa at least one night before the trip starts, so he will be able to bring it to the police and get the paperwork done (you can also send scans as jpg or pdf to us before you start to travel). You will be also asked what you prefer to drink during the trip so it can be bought and stored on the boat.
Please bring your sleeping bag. If you do not have one, blankets will be provided.
Please remember to bring warm clothes if you come during winter time as it will be very cold at night.
Mosquito repellent, Fenistil (in case they caught you), sun lotion and / or cap are good to have.
Only fresh fruits, vegetabels and meat (beef, chicken, if you like also fish) are used to cook 3 times a day to prepare the most delicious meals. An icebox keeps the food and beverages cool, the water used to cook is from the tap, not from the Nile!
Hot drinks (Black tea, coffee, Yansun tea, Karkadee (Hibiscus) tea, ...) are available all day.
The food was superb. I don't know how Sero does it on his small stove, but I would emphasise local food on the website. If people are interested in it they will be excited, if they are not, it will make no difference. (Richard, May 31, 2011)
Because of environmental reasons (not to produce too much garbage) "normal" dishes and glasses are used. If you wish and tell us, plastic dishes for one use only can be provided.
Of course the feluccas are stocked with all safety equipment.
Because of course the feluccas depend on the wind, there is no guarantee to arrive in Daraw after one day. Captains who work for travel companies have therefore to ask a motorboat to tear the felucca and arrive in time, but which makes the guests sick from the scent of the petrol of the motorboat. We dont guarantee any schedule. If there is not much wind our captains will show you nice places on the way, invite you to Nubian villages which usually no tourist will see, introduce you to their friends or families. And if Daraw could not be reached - who cares? We can send you a car to pick you up after breakfast the second day and bring you to wherever you want to go.
Some notes:
I had been the only tourist at the market at all times. The men were happy to be photographed and to see their pictures on the back of my Digital Camera. A promise to send their prints makes them happy (but please keep the promise if you give it!) Nevertheless its nice to ask if its okay to take pictures of them.
Missing a shower I had loved to swim in the river Nile, having a rope in my hands and being dragged by the feluca.
During the night there is a good chance to join a Nubian party with camp fire and drums at the beach you stay overnight with other people from different felucas.
Please see further informations about overnight-felucca-tours to understand about procedures (click this link)


Travelogues
Minshawee and Zero were enthusiastic showing me around - I was impressed with what I saw. Both of them and Waleed were considerate as well during the felucca trip - cooking various types of food to make sure I was comfortable and relaxed. All the best, Xiaolin (July 2010)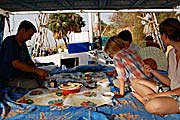 Mustafa and Minshawee were good hosts and looked after us really well. Mustafa's boat is beautiful and comfortable and he keeps it really clean. Mustafa is such a calm "nature-man" and Minshawee is fun and sociable. We loved eating on the boat and having tea – which we drank a lot. Their cooking was the best we had during our whole holiday. Late in the afternoon the wind picked up a bit and we could sail for about an hour. It was lovely – just how we had imagined it, especially now we had left the town behind us.
... We were amazed that Minshawee slept under a thick blanket that night to keep the chill off. Sunrise over the Nile was beautiful and tranquil and we enjoyed watching Minshawee taking a swim. After breakfast Waleed's driver was there to pick us up and take us further (perfect organization as always).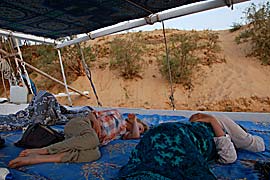 ...Mustafa told us that there is often no wind in the months of July/August. For this reason I wouldn't recommend doing an overnight trip on a felucca during these months – maybe just a day trip. We were expecting it to be hot, but it would have been bearable had there been a wind or a breeze. During the day you can't really stop at different places (we'd missed the Daraw camel market) and you have the stress of getting stuck in front of those huge "floating factory" cruise ships. At night it's difficult sleeping. We met another family later during our holiday who had also done a felucca trip just before us and they made the same comment – they would never do it again in the summer with the risk of no wind. (Siân, Dirk-Jan, Sanne, Dylan and Finn - July 2010)
More Travelogues please see
2-days/2nights-felucca tour
3-days-/3nights-felucca tour
Possibility to visit the camelmarket in Daraw at the weekend.
(Transfer to market is not included in the price of felucca. Depends if transfer by car, microbus or if you go on your own with taxi.)

1 day, 1 night
Private felucca for you and your friends (no sharing with strangers):
75 USD one way - for all (not each person)

plus 16 USD each person each day for all meals

2 days, 2 nights
Felucca only for you and your friends (no sharing with strangers):
120 USD one way - for all

plus each person each day 16 USD for all meals

3 days, 3 nights
Felucca only for you and your friends (no sharing with strangers): 160 USD one way – for all

plus each person each day 16 USD for all meals
----------
Tea and Coffee are included.
Softdrinks or alcohol is not included.
----------

Pickup from felucca:
Transfer to Luxor with stop at KomOmbo and Edfu Tempel
100 USD for car incl. driver
125 USD for microbus incl. driver.

* if you are more than 5 persons a bigger felucca is needed.
Prices for the bigger felucca (not each person) =

110 UD
(1 day / 1 night)
170 USD
(2 days / 2 nights)
230 USD
(3 days / 3 nights)

Photos with a big thank you to our guests:
Petra Dressler
Wojtek and Nadia
Richard Pentelow
Fred W.
Sian