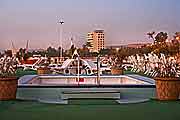 Travel between Luxor and Aswan
on a swimming luxury cruiser
trip of 3 days and 2 nights (one way)
or one week (go and back)
2013: DEPARTURES FROM ASWAN = monday, wednesday, thursday, saturday (= 4 days for sure), friday (not guaranteed).

Boats do NOT start from Aswan on sunday (never did),
tuesday (due to low tourism) and even friday is not guaranteed anymore

Which results in Luxor to be these days that cruises do NOT start: tuesday (not guaranteed), wednesday and thursday (never did), saturday (due to low tourism)
DEPARTURES FROM LUXOR = friday, sunday, monday
(= 3 days for sure), tuesday (not guaranteed)
With Aswan-Individual you can travel "last minute": take the next ship to leave, and enjoy the comforts of a 5-star nile cruiser, visit the temples of KomOmbo and Edfu, have a nap on sun-deck, gorge at the buffets, relax in comfortable sleepingrooms.

Get a taste - for example Aswan to Luxor:
The boats leave at different times starting after noon: only one by one and not all at the same time (of course - who wants a convoy of boats?).
First day you check in around noon, have lunch, later the boat starts to sail in the afternoon or evening (of course you will know at what time your boat will leave). It will arrive in KomOmbo in the afternoon or night (half of the temple is devoted to the God of Crocodiles - Sobek - the other for Horus, God with the head of a falcon). Depending when the boat left Aswan, you can visit Komombo the first day or on the
second day in the morning. Landscape is floating by, while the ship sails to Edfu. This is one of the best preserved temple in Egypt, temple for Horus with statutes of falcons. There are horse-drawn-coaches waiting outside the boats: negotiate for 50 EGP (end up paying 70 EGP) for go and return for all the carriage (nor for each person!)
After 2 hours all guests have to be back on the boat which starts to sail to Luxor. It will arrive sometime in the evening / night.
On the third day you check out after breakfast in Luxor
(or stay one more night on the boat = 4 days / 3 nights).
This offer is for "Last Minute Cruises". The Nile Cruise Boats sell rooms which had been reserved by international tour operators - but which have not ben booked by tourists. The boats publish availabilities and prices to travel agents in Aswan or Luxor 5 days prior departure.
Usually there is no problem at all to get a Nile Cruise and guests can choose which boat they prefer. Waleed knows all boats very well and he would meet you in Aswan, to give you advice which boat has the best recommendations or which one is cheaper, and - according to you wishes - would take you then to the boat he thinks best to let you see. If you dont like it, he would show you another one.
Note for travellers during high season
Since 2005 until today Waleed could find a Nile Cruise for every guest (except for one couple in 2009).
At the end of december until start of january (2 weeks), in february during Egyptian holidays (2 weeks) and around Easter (2 weeks) is high season in Upper Egypt. During these times, many boats are sold out or have only few rooms left. Prices mount, while Egyptian tavel agents have to pay additional baksheesh payments to responsible persons to get "good" rooms or rooms at all for "their" guests.
Of course Egyptian travel agents always answer "no problem", when someone asks to get a Nie Cruise for a day during these times. But if I were you, and if I would intend to travel with a Nile Cruise around Christmas or the Changing of the Years, I would book it ahead of time to make sure all is arranged ... if you don't mind to travel on a full boat. (The one couple I mentioned before, who didnt find a Cruise, told me they were happy not to have been inbetween so many people on one boat for 2 days ...)
Cruises on Lake Nasser are also available
but there are no last-minute-offers for them (in fact: they are high standard with a very high price - meals and excursions are included, drinks not.). The boats, Waleed works with (Prince Abass and Nubian Sea), are leaving tuesday from Aswan. (It is possible to check out friday morning after breakfast and return by car - or travel to Abu Simbel by car and check in on boat at Abu Simbel on friday, leaving Saturday early morning).
We received a wonderful diary from Martin (it was written in German, please excuse the English translation which was made with google translation).
Comments we found in tripadvisor.com about us and the Nile Cruises:
Christina in tripadvisor, April 15, 2012
With Petras advice we were also able to book a 2 night last minute Nile cruise on a 5 star boat at a fraction of the normal price that turned out to be one of the highlights of our trip!!! Waleed even walked us to the boat to make sure we were happy with our rooms and the boat.
While on the Nile cruise Waleed provided us with Ehab who truly made our trip special!!! He was with us from Aswan to Luxor and was funny, insightful and told us things that weren't in the guidebooks.
(Thank you Christina for the following 2 photos and the 7th small picture on the left side, plus photos 11 - 17)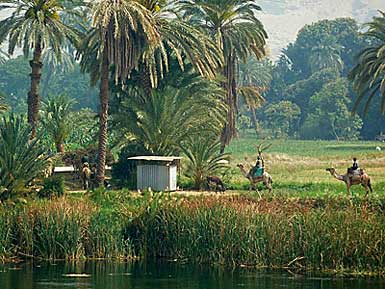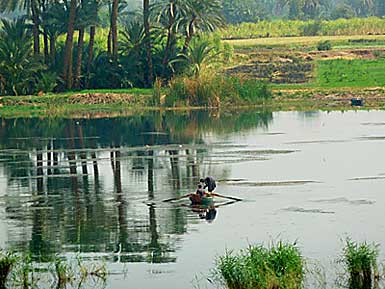 Posted in tripadvisor October 10, 2011 from jpk186240, Toronto
Aswan Individual is such a great Company, and unique. We wanted to take a boat trip down the Nile from Luxor to Aswan for just two days without booking with a tour company and without doing a group booking, and this is virtually impossible, but with Petra and Waleed's help they managed to book us last minute on to a 5* deluxe boat, Radamses II and it was just perfect.
Waleed picked us up from our hotel, took us to the boat, checked us in etc... and then met us in Aswan off the boat. All meals are included in the price, and the cost of the boat is much cheaper than it would be if organized via a tour company.
Waleed can't confirm the boat until about 5 days before because it all depends on vacancies last minute which the boats want to fill, but he certainly came up with the goods for us!
He is a delightful and completely reliable person, and we would recomment Aswan Individual to anyone.

Posted in tripadvisor March 06, 2009 from susannobody, Toronto
(...) By the way, Waleed was able to book us to a cruise (Royal Lily) at a very good last minute discount price. We picked the boat after a lot of research and reading many reviews from home (one choice only and no flexibility), and then we asked Waleed to get it for us. He also got us a free upgrade to a suite at the boat. My whole family was very happy with his service and absolutely agreed that his service was great.(...)
Posted in tripadvisor Febr 25, 2009 from Hope, Sydney
When we arrived in Egypt and got ourselves an Egyptian mobile #, both Mustafa and Waleed have been calling my Egyptian mobile many times, checking if our trip has been going as planned and providing us updates with the cruise booking. Waleed also offered us courtesy pickup from train station. I have never felt so rest assured in our egypt trip - that from the very beginning to the very end we know everything had been taken care for the Aswan segment.
Posted in trip advisor April 03, 2008 from Heather_1m, Edinburgh, U.K
(...) We met Waleed two days later as he organised a last minute cruise for us. This worked out extremely well. The cruise boat was managed by Thomas Cook so it was of a high standard and the cost was very low. He managed to find us the cruise during the Easter weekend so I feel Waleed can be relied on and have no hesitiation in promoting him! Also, the manager of Thomas Cook, Egypt, spoke to us and sang Waleed's praise saying what a good man he is, etc.
Have a good trip and if you have any further questions don't hesitate to contact me.
Posted on trip advisor December 07, 2007 from dipban, London
Hi, (...) The cruise ship we ended up on was called MS Renaissance. We (...) booked through the wonderful Waleed (from aswan individual).
Comment on Waleed: Absolutely fantastic and very honest (which is quite a rare thing in Egypt).
The cruise ship was very nice, the food was ok (we are vegetarian) and the staff were excellent (except one guy in reception who was - lets just say - not a very nice person to put it politely).
06-11-2006
Dear Mr. Waleed, we wish to thank you for the organisation of our Nile Cruise trip from Aswan to Luxor and the tours in these areas during the last seven days.
During this period we experienced very well-conducted tours and excellent service. You and your business associate in Luxor, Mr. Mohamed Ali, provided at customised service according to our expressed interests and wishes.
We are exceedingly pleased that we have seen all the major cultural and historical sites of these two areas, in a fairly relaxed and enjoyable fashion. The tour guides - Mr. Rubie El Ammary on the Nile Cruise, and Mr. Mahmoud Hassan of Luxor, were particularly knowledgeable Egyptologists.
You and Mr. Ali did your utmost to ensure that the daily hour trips ran accordingly to the program, and you checked daily with us that all was well. Your travel service is highly professional and efficient, and also flexible when we decided to visit other sites in Luxor.
We appreciate that you both quickly organised tours on a moments notice and that you ensured comfortable and spacious vehicles for the longer and the short trips. (...)
Sandi and Akksandra Ceterin, Melbourne, Australia
Please see also our guestbook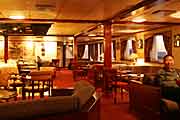 Please ask us! Depending on boat and season, prices range around
100 USD Dollars in summer;
100 to 125 USD in winter
on a good* 5star- or
5star-deluxe-boat*
for each person and night in a doubleroom
(Single room 65% supplement)
depending on season, ship and room

Meals are included, drinks not.
If you want a guide to come to the boat in Komombo to visit the temle with you, then travel (by car) to Edfu, wait for you there, help you get a horse carriage, meet you at the temple to explain: 35 USD incl. transporation of the guide.
----------
* Often we are asked for cheaper boats. But we refuse to work with them because we feel responsible for the well-being of our guests and also their stomachs ...
Please see here for Informations about Nile Cruises before and around christmas to beginning of january (= christmas holidays)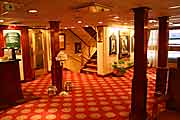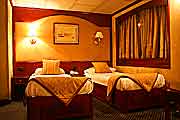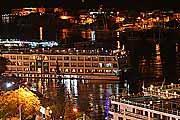 Diary - my Nile Cruise to give you an idea
I sit here on "Emilio" – a 5-star-Nile Cruise boat – somewhere between Edfu and Esna. I must admit, this is my first cruise (not counting felucca tours), and I only booked it to be able to answer emails better. Usually I try to be far away from organized tourism or big restaurants with "international food". It is Saturday afternoon, I am at the end of the sun deck, the Nile wide and blue in front of me, soft warm wind all day (it is said to be 40 degrees Celsius = hot outside the boat!!!) but I am in the shadow and the wind helps to feel just perfect.

I had not thought the Nile Cruise could be so beautiful. I chose Emilio because it leaves Aswan Friday at 11 pm and I can check out Sunday in Luxor after breakfast, in short: I tried to spend as short time as possible on the boat. But today I wish the distance between Aswan and Luxor would be longer, to be able to spend more time here relaxing and enjoy the luxury of a 5-star-boat. It is not boring at all (which I had expected), in contrary: time passes too fast.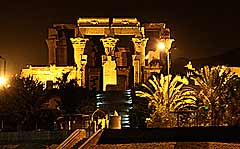 But first things first and maybe answer some questions you might have:
Waleed reserved on Wednesday and helped me to check in Friday at 11 am. After making sure the room was fine, Waleed left and we had lunch (I preferred the fruits offered as dessert). Because meals are included but drinks not, I signed a bill for 12 EGP when we ordered a big bottle of water, to be paid when we check out.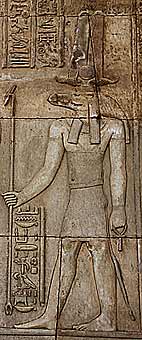 Sitting among all nationalities I already missed Aswan, so we left the boat and returned at 7 pm for dinner. Later we enjoyed the lights from Aswan sitting on upper deck, celebrating our Nile Cruise with two glasses of wine (40 EGP each glass, alcohol is very expensive in Egypt).
The boat started to sail, the illuminated skyline became smaller, we passed the bridge and still loved the warm wind after midnight. We arrived in Komombo after midnight, we watched the boat being towed and went to bed.
At 7 am I received a wake-up-call, time until 8 to have breakfast, walked from the boat refusing to buy cheap jewelry from Egyptians boys, gave sweets to one, bought the tickets (30 EGP each): 1 hour time for Komombo – the boat will leave at 9.30 am. After making pictures from the tops of pillars (without tourists dancing through the photos), I gave up and decided to take pictures from tourists with colored umbrellas, or posing as ancient Egyptians, and have Komombo ruins in the background. The exit is not the same as the entry. One has to walk to the back and then return along the "Corniche" to return to the boat: it is a good advice not to be late to avoid running.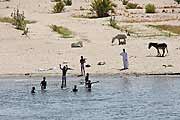 The landscape changes several times after Komombo (picture on top). I had in my mind to work on the laptop in the morning, but I preferred to watch, take photos, wait to see Silsila passing on the left side, wished the boat would stop to sail while we had lunch (the windows in the dining room are higher than the tables),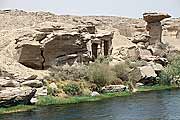 gave our two waiters 10 EGP each as tip (which made them dance, really: dance! and hug us) watched the boat arrive in Edfu from upper deck and were the first to leave it.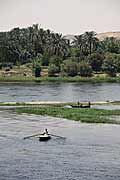 There were several carriage drivers waiting in front of the boat. In Arabic I asked the first to accept 50 EGP to go to Edfu Temple and back, he hesitated, agreed and when we sat inside the carriage he let the horse run. I felt sorry for the horse in the heat and asked him to let it walk slowly. We arrived at Edfu Temple and I gave him 20 EGP baksheesh "li hossam" - for the horse (my pleasure to pay more than negotiated) and told him he will get the 50 EGP when we will arrive at the boat later. He agreed, told me his name and he would wait at this place.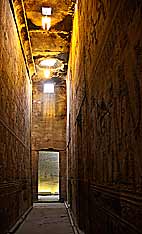 I love Edfu Temple (ticket: 50 EGP each). Of course I have been there before but every time I am overwhelmed again. It is "the most completely preserved Egyptian temple" (Lonely Planet guide book) and I always feel set back in time, see the priests move through the different halls and passages in front of my inner eyes. Can't stop to take pictures and try to recognize the gods accepting offers.
Hamada – the carriage driver was waiting. I asked him to stop at an internet café to check my emails about Aswan Individual. The boat has W-Lan but asks for 40 EGP / 30 minutes which I think is too expensive. Hamada drove us through narrow alleys – probably his neighborhood - and made sure the boy inside the internet café will give him commission. I only downloaded the mails on the laptop and we left after 5 minutes giving 3 EGP. I overheard Hamada will get 1 EGP share.
Back at the boat Hamada was not satisfied anymore with the 50 EGP we had negotiated. He asked for 20 EGP more because I was in the internet. I laughed at him and said good bye.
Back on the terrace we got tea and cake. I think we were only about 50 persons on the boat so everybody could keep his privacy on the sundeck or had his own table in the dining room. And I started to write this "diary".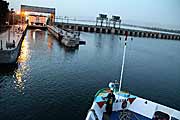 It was interesting to watch the boat going through the lock in Esna, at 7.30 pm we had dinner and both waiters (who each had received 10 EGP tip after lunch) were cheerful and told us the tea I had asked for would be "a present from them". Of course we left 10 EGP each for them again and went on the terrace for 1 hour. When we returned to our room we found two pillows and towels arranged to be an elephant with my friends glasses in the face. Now I sit here and just had to continue the diary and tell you about it.
Tonight the crew planned a "Galabayia Party". I called the reception but there is nobody in the dining room.
In the morning we had breakfast (until 9) and checked out. Luxor is so much harder than Aswan, everywhere people run after you to explain stupid things you didn't ask them for, then ask for baksheesh and complain what you gave would not be enough. A carriage driver offered 20 EGP to drive us around Luxor temple to a cafeteria I know (800 meters?) and after arrival put me into a discussion to pay 50 EGP: it would be 20 EGP for each person (haha) plus 10 EGP for the horse. A taxi driver was fine with 20 EGP at the beginning and didn't want to let us go until we paid 60 EGP. A police man followed us and asked for money only to leave us alone. I gave 1 EGP and he said this would not be enough he would have a little son at home. A boy asked me to take a picture while we were waiting for the train. First I refused, finally I did it to make him happy seeing his portrait on the digital camera. He brought his mother to see it also. She made a big fuss to pay her 10 EGP baksheesh for it. I cannot tell you how happy and safe I felt to be in Aswan again in the night.

Email from Cecil Gilbert, December 26, 2010
Our cruise on the Emilio was very nice. The cabins were neat, comfortable and we had no hassle whatsoever for baksheesh, that we give, of course, but without feeling obliged.
The bathrooms were also of very good standard. The restaurant was good (we had same table and waiter during our stay) and the waiter was attentive and nice. Nothing to say about the food, but good and varied. The only trouble was with the bill payment on departure, has it seemed there had been a mix between the drinks receipts and all the people paying on that morning had wrong bills.
This was settled when the Head cashier took over.
So, very good experience with the cruise. We loved it.

Please also tell Waleed how pleased we have been with all the help and advice he gave to us. He is a very reliable person.
Be sure we will recommend you, whenever possible.
Thank you again and best regards,
Cathy


Email from Brian Yare, December 26, 2010
The Emilio was a good boat, and the food was excellent. But there was little information available about the times of meals and temple visits, except on the individual boards of a number of tour groups using the boat. This information, in several different languages, was not consistent! There were no announcements, except for 'sailing time', and we were not aware of the presence of an Egyptologist on board. The boat should have had a general notice board with details of the itinerary.
Other boats have extra facilities such as a passenger lift, and wi-fi. These are lacking on Emilio.
It is common knowledge that Nile boats dock alongside each other and that one cannot expect a view from the cabin except when cruising. This is disappointing, but not the fault of this vessel in particular.
Most of the cruising was done after dark, only the section from Kom Ombo to north of Edfu being in daylight. So most of the scenery was missed.
Some cruise boats are still mooring in the centre of Aswan and Luxor. The Emilio was restricted to the outskirts of both.
But we still enjoyed the cruise, only being extremely glad that we were only on board for 2 nights, and not staying aboard while in port.
We had a good time in Egypt, and will happily recommend the services of Aswan-Individual to others.
Best Wishes, Brian Yare