There are a lot of temples in Egypt and I have seen many. But Philae is the "sweetest" one, romantic not only because of its devotion to Isis and her love to Osiris, but also its architecture and redesign. With ceiling phantasy can easily float back for more than 20 centuries.
A tour with a guide is highly recommended to recognize and understand the traces of different cultures during the centuries!
Philae is offered as a package (during the day) to visit Philae, Highdam and the Unfinished Obelisk (prices please see left side) or a package including also Kalabsha Temple, Beit Al-Wali and Kertassi.
"Most of all, though, we enjoyed the company and excellent guiding of Fatma for our Temple of Philae and Kalabsha visit - what a joy to be with such a knowledgable, enthusiastic, radical/free-thinking and independent Muslim woman - HIGHLY recommended!" (From our guestbook: Karl Harris, March 2011)



Philae Temple
Philae is dedicated to Isis - the Goddess of motherhood, magic and fertility. As symbolic mother of the king, she appears as a woman with a throne-shaped crown, or sometimes depicted with the sign of motherhood and fertility: the two horns and the solar disc between them. Her cult spread over Europe since the Greco-Roman period.
The cult of Isis at Philae goes back to the 7th century BC, but the earliest remains date from the 4th century BC.
And Isis was being worshipped at Philae until the 6th century AD!
By Roman times Isis had become the greatest of all the Egyptian gods, worshipped right across the Roman Empire even as far as Britain.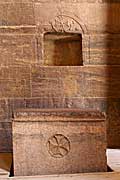 Early Christians transformed Isis Temple into a chapel and defaced many of the reliefs - these which were not buried from the sand. Muslims later destroyed their inscriptions.
(One can still see by the color of the stones the waves from the sand).
Later, French soldiers fghting for Napoleon Bonaparte left their graffities.
After Old Aswan Dam (1902) was built, Philae was swamped half of each year by the high waters, so tourists rented rowing boats to glide among the columns and peer down through the water of the Nile. Amazing it is so well preserved.
When Aswan High Dam was completed in 1971, the temples on Philae would have entirely disappeared, but they were rebuilt by the UNESCO on a nearby Island: Agilkia.
Informations about Sound and Light Show:
Visit the Sound and Light Show
and see schedule (without responsibility taken):
http://www.soundandlight.com.eg
Photos:
• Above - during the Sound and Light Show
• Isis (during the Sound and Light Show)
• Altar from early Christians who used Isis Temple as a Chapel
• One still can see where the sand protected the stones

Pictures left:
• Philae seen from the boat (2x)
• Exit Philae
• Kiosk of Trajan
• Overseer at Philae
• Kiosk of Trajan during the Sound and Light Show
1- 4 left: thank you Vincent Poon, HongKong!
other photos: Petra Dressler
More about Kalabsha, Beit Al-Wali and Kertassi






Philae, Highdam, Obelisk
including guide:
Pick up with car or microbus (air condition) from your hotel,transfer and boat for you to bring you to the island, visit at Philae. boat back, drive with the car to visit Highdam and Obelisk,all with guide
78 USD with car
(1 or 2 persons)

93 USD with microbus (3 or more persons)
Tickets not included:

Option: Add
Kalabsha Temple, Beit Al-Wali and Kertassi
please see:
Philae, Highdam, Obelisk plus Kalabsha Temple
Sound and Light Show at Philae: Representative and driver to pick you up from your hotel, representative to negotiate and pay boat and captain for you at Philae. The captain, boat and driver will wait for you to bring you back to Aswan after the show:
With Limousine
(1-2 persons):
45 USD
With Microbus
(3 persons & more):
55 USD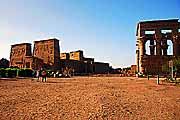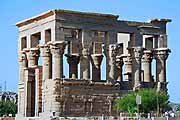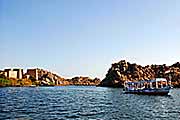 Temple of Philae on the island Agilkia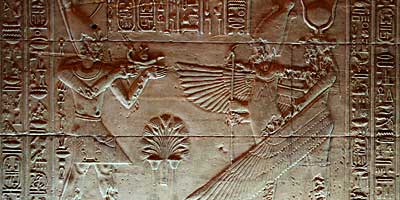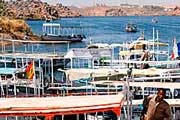 Impressions from V. Indonesia (April 2015)
For example Mansur took me to a wall full of writing. If I saw that wall alone without a guide, it would be just a grey dull wall with boring writing. But of course when he told me it was a wall listed down the names of the kings then it was no longer just a grey wall. It was an ancient database with interesting story like about how the name of Hatshepsut was not there (you love Isis and Osiris story but I love love love Hatshepsut story better). Because of a guide like Mansur, I could see beyond that boring grey wall and I could spend days just learning that wall of names.

And then there was Said. If I saw the unfinished obelisk alone without a guide then it would be just a huge stone partly digged from a stone hill. But he made me see hundreds maybe thousands of ancient Egyptians working on that site. I could see the impressive impossibly hardwork. Maybe we are a so much more weaker less creative generations compared to those ancient Egyptians.
(V., Indonesia, 2015)
More from V. in tripadvisor


Impressions from Liz (October 2011)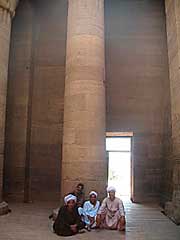 "It was a lovely day, made so much more interesting by my Nubian guide Abdullah, who told stories at every turn – the story of Isis and Osiris, the birth of Horus after Osiris had been cut into small pieces and the body parts spread over Egypt; how his wife has reassembled the body parts just for long enough to conceive a child; the passionate affair of Anthony and Cleopatra the legacy of the Ptolemies, and the rise and fall of the Egyptian empire through Roman and Greek times.
Abdullah tells a good version of the story of Augustus, Caesar, Octavian, Cleopatra, Anthony and the sad demise of an entire civilisation following the unremitting spread of the Roman Empire. Philae really is a beautiful place (...)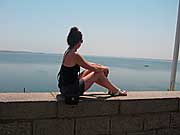 We then visited the High Dam where Abdullah again was full of interesting facts about the Egyptian – Soviet collaboration of the building of the dam, and how it took more human endeavour than the Great Pyramid at Giza ..." (please see more on Liz blog. Thank you Liz, for you allowance to copy your impressions and dreamlike picture to our website!)
Philae Temple, the first Cataract and the Nile
Ancient Egyptians believed that the Nile River flooded every year because of Isis' tears of sorrow for her dead husband, Osiris.
Please read more about their legend on this website.
Herodotus (Greek historian, 5th century BC) reported, that an Egyptian official had told him that the First Cataract was the source of the Nile, which flowed north and south from there (from Lonely Planet, page 315).
Today, after highdam was built, the Nile is not as wild anymore but rather quiet.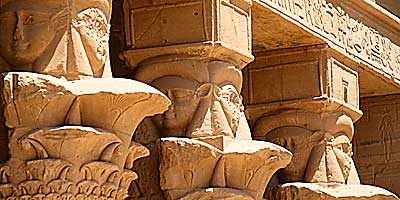 The Nile was very important in ancient Egyptian spiritual life: Hapy - god of the annual floods and the pharaoh were thought to control the flooding of the Nile.
The Nile was considered to be a causeway from life to death and the afterlife. The Egyptians thought, the east was a place of birth and growth, the west to be the place of death.
God Ra, the Sun, underwent birth, death, and resurrection each day when he crossed the sky.
This is the reason why all tombs were located west of the Nile: it was believed that in order to enter the afterlife, one must be buried on the side that symbolizes death.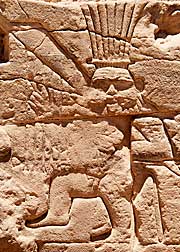 Photos:
• Above - Isis and Osiris receive gifts from the pharao in the Sanctuary - to me one of the most romantic reliefs in Egypt, altough the faces have been destroyed.
• Captains and boats are waiting for guests
• Philae seen from the boat
• Columns with Hathors face, who helped Isis to give birth to Hathor
• Not seen often: Bes - God fond of music and dancing; he kept evil from the home and prtected women in childbirth
Photos: Petra Dressler