The temple of Horemheb at Silsila
Possibly the highlight for us though was mooring up over night at Sil Sila and the early morning visit of the quarries and tombs. We have seen Sil Sila many times from passing cruise boats, but have never been able to actually visit the sight. It was great! Allan and Kathy Morris (UK) - please see pictures
Since this comment about a felucca trip Allan and Kathy had made with Mustafa I was waiting for a chance to see Sil Sila myself. Now, since there are no more convoys anymore between Luxor and Aswan, it seemed easy to go there by car instead of a 3 day felucca trip (which is very beautiful!)
Sil Sila is amazing! There are several sanctuaries hewn in the rocks on a length of 500 meters. We were all alone except many Nile Cruise Ships passing by without stop - which - I think - is good for that place.
But I would like to tell you about my trip from the beginning: Sil Sila is not well known, even in Aswan. Only Mustafa (our felucca captain) knew where it was and so I had asked him to come with me and the driver. We left Aswan at 9 a.m. and after a short stop at the camelmarket in Daraw (only Saturdays and Sundays), we decided to take the ferry to cross the Nile with the car. But the carferry did not work for days. So we left the car at the eastbanks and wanted to take the passenger ferry.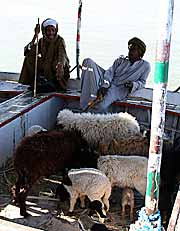 When the ferry came the goats were the first to enter it. Then came the people, then a lot of sacks of furtilizer. A big machine was put on the top of the boat and when a whole lorry with sugar cane was unloaded and the canes were also thrown on the top of the ferry, all people had to get out and wait for the next ferry. Which came... later, in Egypt you have to have time sometimes.
At the westbank side Toyotas were waiting and I was lucky, the driver allowed me to sit on the back loader. We raced through the village, then through the dessert, my left hand clenching onto the car, my right hand trying to make photos. It took us about 20 minutes to the temple (pictures please see right side).
First the man from the ticket counter was not to be found. We had evidently not been expected: usually only the Dahabias stop here. Finally he came and I bought the ticket (25 EGP, open 7 am to 4 pm).
We passed a sign which sais: "Horemheb Chapel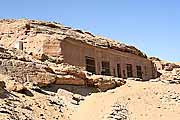 Horemheb was the last king of the 18th dynasty. He ordered to carve this chapel dedicated to the God Amon and to several other gods and goddesses connected with the river Nile such as Sobek in the shape of crocodile. Khnum god of the first cataract. Satet, the goddess of Elephantine Island. Anuket, the goddess of Sahel Island. Hapi, god laouret in the shape of hippopotamus and several other gods and goddesses. Later other kings completed the decoration of the chapel such as: Ramses Ii, Merenptah, Amanmes, Siplah and Ramses III. The most important decorations show a relief of Horemhab carried in a portable chair during festival; another relief with a list of the Hebseds or jubiless celebrated by Ramses II supervised by his eldest son, prince Khaemwas". (Its not so easy to read, I hope I copied it well)
The temple was nice, but the caves were breathtaking!
If anyone reads this and you want to go there, please be careful not to destroy anything!
A guide told me, the Pharao built the temple for craftsmen, so they dont need to travel to Luxor to worship their religion.
The tombs I found so fascinationg were built for the craftsmen to show harvesting and offering scenes. The family tombs are 3.200 years old.
This place had been the quarry where much material was removed to build Egyptian temples (Dendera, Thebes, Karnak, Esna, Edfu, Komombo ...), that it was known in ancient times as Khenu (Place of Rowing) and that here, the bedrock changes from limestone to sandstone.
If you know more, please tell me, so I can copy your comment here on this website.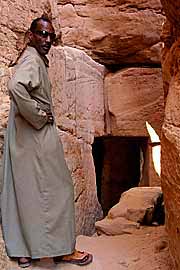 To drive back and cross the Nile to our car again was fast. We had intended to visit Esna as well - which we did - but we arrived there 8 hours after our departure from Aswan, were lucky to get tickets but only for a 10 minutes visit, then they threw us out and we returned at 9 pm to Aswan.
Note:
As a licenzed travel agent Waleed has too much responsibility to let you go there alone. This is why a guide for Silsila is not only nice to have to explain to you, but also necessary to assist you to get there by motorboat (instead of ferry) and care for your safe and pleasant stay.
To make things short: If you would like to visit Silsila as well, see it as an adventure and dont expect a schedule like with a European train.
Karl (March 2011): "our guide for the optional side-trip to Sil Sila, Mohamed, was very good indeed. He managed to answer all my questions about the site and allowed us to indulge in quite a long visit to the Temple of Horemheb there, as with all our trips there was never any rush and the itinerary was definitely in our control."
Rainer (Netherlands, March 2009): "But let me star by saying thank you for arranging what turned out to be the best and most interseting day of my whole vacation. The driver was very kind and the guide that was arranged was excelent. He knew so much and his information was so good, it made me look so much different at the hyroglyphs. He was able to read the storries for me at Sil-Silla which made it so special.
It wasn't easy to find, as you told me. We had to drive over some farmlands until we found the boat that took us across. There we where welcomed by the guard and some friends of his (who obviously also wanted a "baksjish") who opened the gates. They also saidd they do not get many tourists there and at the time I was there we where all alone, no other touristst at all, excelent.
The temple itself was gorgeous. Not too big but the fact that it was so quiet made it so special. And also to see the digsites was very interesting.
The rest of the day was also perfect by the way, Kom-Ombo and Edfu where beautiful and Daraw was also so lovely. Especially again since there were no tourists at Daraw and the people are so much more friendly then in the big cities. I found the Egyptians near the tourist attractions only to be nice because they were hoping to get some money from you. In the smaller places they are just friendly not for money but because that is how they are."
(Helen, England, April 2009): "Dear Petra, I enjoyed Silsila tremendously. It was like an adventure and the tombs etc were very interesting as well. I think it would make a very good excursion from Aswan combined with Kom Ombo as they are a contrast with each other and could be done together before a late lunch. Or it would make a wonderful place for a picnic.
The guide Walid got for us was fine. I gathered he was usually based at Kom Ombo but he had done all his homework and was well able to explain the chapel of Horemheb and other tombs for us. He had borrowed a camera and took a large number of photos to add to the paperwork he carried round with him. He took the whole thing very seriously and I am sure next time the tourists will get an even more detailed explanation. You should not hesitate to use him again. He also brought a friend who was a sort of trainee guide. I am sure the people in Kom Ombo are aware that Silsila is an opportunity for them to expand their expertise. I wonder if there are other places as well? I get a UK magazine called Ancient Egypt which mentions a few places which are now accessible from Luxor now the convoy system has been abolished, and there may be some near Aswan as well. I might do some research on this. I also think people do not go much to Sehel, where there are hundreds of inscriptions, or to the old museum and excavations on Elephantine. You could easily design excursions round these. Who cares about the High Dam?
I agree, like you I was not able to find much on the internet about Silsila. I did go on a tour by Ancient World Tours which went there but on the day I did something else."