Tombs of the Nobles and Qubbet el Hawa
Always a nice sight from Aswan across the Nile are the tombs of the nobles, the oldest being more than 4.000 years old. You can visit the different tombs, a lot of them with well preserved reliefs and paintings (20 photos and impressions).
You will find these graves from south to north:
Mechu und Sabni (6. dynasty, etwa 2325 bis 2175 BC)
Sarenput II (12. dynasty, um 1938 bis 1755 BC)
Her-Chuf (6. dynasty)
Pepinacht (6. dynasty)
Sarenput I (12. dynasty)
Right on the top there is the cupola of the Sheik-tomb Qubbet el Hawa (Dome of the Winds), from where you have a terrific view all over Aswan, the Nile and the dessert.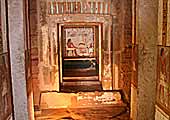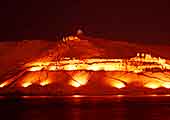 Take ferry from trainstation to Gharb Aswan and walk to the Tombs of the Nobles.
Or combine the tombs with a felucca tour (13 USD each hour)
Or ride with camel from the tombs to the monastery and back